Fire Safety Posters
Sound the Alarm on Poor Fire Safety Practices
In the case of a fire, a lot can happen in seconds, so your employees need to be equipped to act fast. Make sure fire safety protocols are burned into their memories with creative fire safety posters. Safety Poster has signage on topics ranging from how to properly use a fire extinguisher and how to swiftly and safely exit the building to the importance of keeping fire exits clear and not blocking sprinklers. No matter your needs, Safety Poster can help you promote safe practices that prevent fires from occurring and educate employees on what to do should the alarms sound.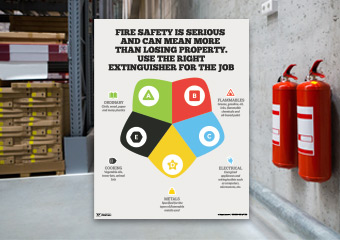 Why You Need Fire Safety Posters 
These colorful safety posters help workers understand what to do in case of a fire. Safety posters are one of the easiest and most effective ways to reinforce key safety messages at a time and place where they are most necessary. Fire Safety posters: 
Bring attention to 

fire safety 

issues and other topics

 

Address 

fire safety

 issues specific to your workplace

 

Reinforce your 

fire safety 

training and guidelines

 
To keep fire safety top-of-mind, your safety posters need to capture employees' attention and provide a consistent message. Make sure you: 
Select posters that reinforce training messages

 

Keep the message fresh by frequently rotating in new posters

 

Place safety posters where the message is most relevant — not just in hallways or the break room

 
Resources:
Fire Safety Articles & Tips at SafeWork Indsider
Are You Choosing the Right Safety Posters? 
7 Reasons Why You Need to Laminate Your Safety Posters