Electrical Safety Posters
Create Some Buzz Around Electrical Safety
Fires, shocks and accidents related to electrical wires aren't reserved for those working in the electrical power industry. Even an overloaded power strip or extension cord can lead to a deadly situation. Safety Poster offers a wide variety of safety signs to address the entire spectrum of electrical hazards from those present in the office to those specific to maintenance crews. Browse through our collection of clever posters that will zap bad habits and keep your employees safe.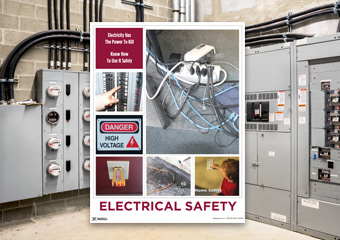 Why You Need Electrical Hazard Safety Posters 
These colorful safety posters help workers understand a wide range of electrical hazards from everyday outlets and power strips to operating high-voltage equipment near power lines. Safety posters are one of the easiest and most effective ways to reinforce key safety messages at a time and place where they are most necessary. Electrical Safety posters: 
Bring attention to 

electrical hazards 

and other topics

 

Address 

electrical hazards 

specific to your workplace

Reinforce your 

electrical hazard

 training and guidelines

 
To keep electrical safety top-of-mind, your safety posters need to capture employees' attention and provide a consistent message. Make sure you: 
Select posters that reinforce training messages

 

Keep the message fresh by frequently rotating in new posters

 

Place safety posters where the message is most relevant — not just in hallways or the break room

 
Resources:
Electrical Safety Tips and Articles
Are You Choosing the Right Safety Posters? 
Inspiring Words Lead to Safety Commitment