ComplianceSigns: About Us
We're Top-rated for Customer Service

ComplianceSigns.com has received highest customer service rankings from our customers, service providers, independent ratings services, and the BBB. Learn more on our
Customer Testimonials
page.
We're an Inc. 5000 Honoree

From 2010 to 2017, ComplianceSigns.com® was named one of America's 5,000 fastest-growing private companies by Inc. magazine. We're proud of these seven annual honors and we thank the thousands of ComplianceSigns.com customers who made it possible.
Read more about the awards.
Who we are
ComplianceSigns.com is a leading online supplier of regulatory-compliant safety signs and labels, parking signs, no smoking labels, Braille restroom signs and a wide variety of other workplace identification signage. ComplianceSigns was designated one of the fastest-growing private companies in the U.S., as ranked by Inc. magazine. Our dedicated employees take pride in producing high-quality products and finding innovative ways to help our customers.

Our company was founded in Chadwick, Illinois in 2005. We expanded operations in 2012-13, completing a 9,000-square-foot facility addition. As company growth continued, we moved production operations to Florida in 2020 to better meet the growing demand for our safety products.

In 2021, Oregon safety tag innovator SafetyCal, Inc. merged into ComplianceSigns. Merging the two brands allowed greater internal efficiencies that empowered the teams to better serve the customers of both brands. We are very excited that ComplianceSigns customers now have easy access to SafetyCal's many unique items, including Flap Tags and EVERCLEAR Flap Tags and the EZMake printing system in addition to our inventory of stock and custom safety signs and labels.

Thousands of customers visit our website every day to find the best selection and value in safety signs and labels. We work hard every day to provide absolutely the best service and products. Your satisfaction is our top priority, and our experienced professionals aren't happy until you're happy. Download our brochure to learn more.
Who We Serve
Today, our clients span a wide range of industries and public agencies that depend on well-designed signs and labels to protect their employees and customers: military and government agencies, industrial and chemical manufacturers, retailers, schools, physician offices and health care facilities, professional buildings, churches and many others.
What We Believe
Shopping for workplace signs and decals shouldn't be an ordeal. And, finding exactly what you need should be a fast, easy experience. That's why we designed an online store that lets you easily search and shop more than 60,000 products from the convenience of your computer. And our unique custom sign generator lets you create Custom Products quickly and easily.
What We Promise
We want our customers to be more than just satisfied -- that's why your satisfaction is guaranteed. From our great customer service team to flexible and secure payment options to our famous fast delivery, we look forward to earning your business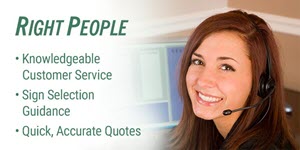 Our signs and labels are proudly
Made in the USA
at our plant in Florida.
---
---
Contact us: Monday - Friday
Call us
(8 a.m. to 6 p.m. Eastern Time)

Fax us
(Available 24 hours/day, Every Day)