Forklift Safety Posters
Drive Home Your Safety Message with Vibrant Forklift Posters  
Forklifts can provide an incredibly efficient means of moving materials through your warehouse or job site. But they can also present significant danger if drivers don't take care to operate them safely. Forklift accidents are among the most commonly cited OSHA violations, and they can be prevented with the right training and messaging. Keep your warehouse safe — and avoid OSHA violations — with creative forklift safety signage from Safety Poster.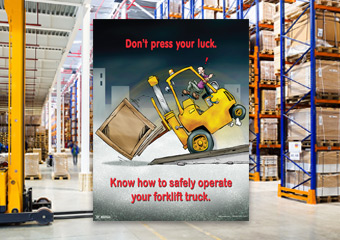 Refine by
turnto_average_rating_bucket 
Why You Need Forklift Safety Posters 
These colorful safety posters help workers understand how to properly operate a forklift and the dangers a forklift can present when you're not paying attention. Safety posters are one of the easiest and most effective ways to reinforce key safety messages at a time and place where they are most necessary. Forklift Safety posters: 
Bring attention 

to forklift safety issues and 

other topics

 

Address 

forklift safety

 issues specific to your workplace

 

Reinforce your 

forklift safety 

training and guidelines

 
To keep forklift safety top-of-mind, your safety posters need to capture employees' attention and provide a consistent message. Make sure you: 
Select posters that reinforce training messages

 

Keep the message fresh by frequently rotating in new posters

 

Place safety posters where the message is most relevant — not just in hallways or the break room

 
Forklift & Safety Poster Resources: 
8 Ways to Prevent Forklift Accidents
Are You Choosing the Right Safety Posters? 
7 Reasons Why You Need to Laminate Your Safety Posters