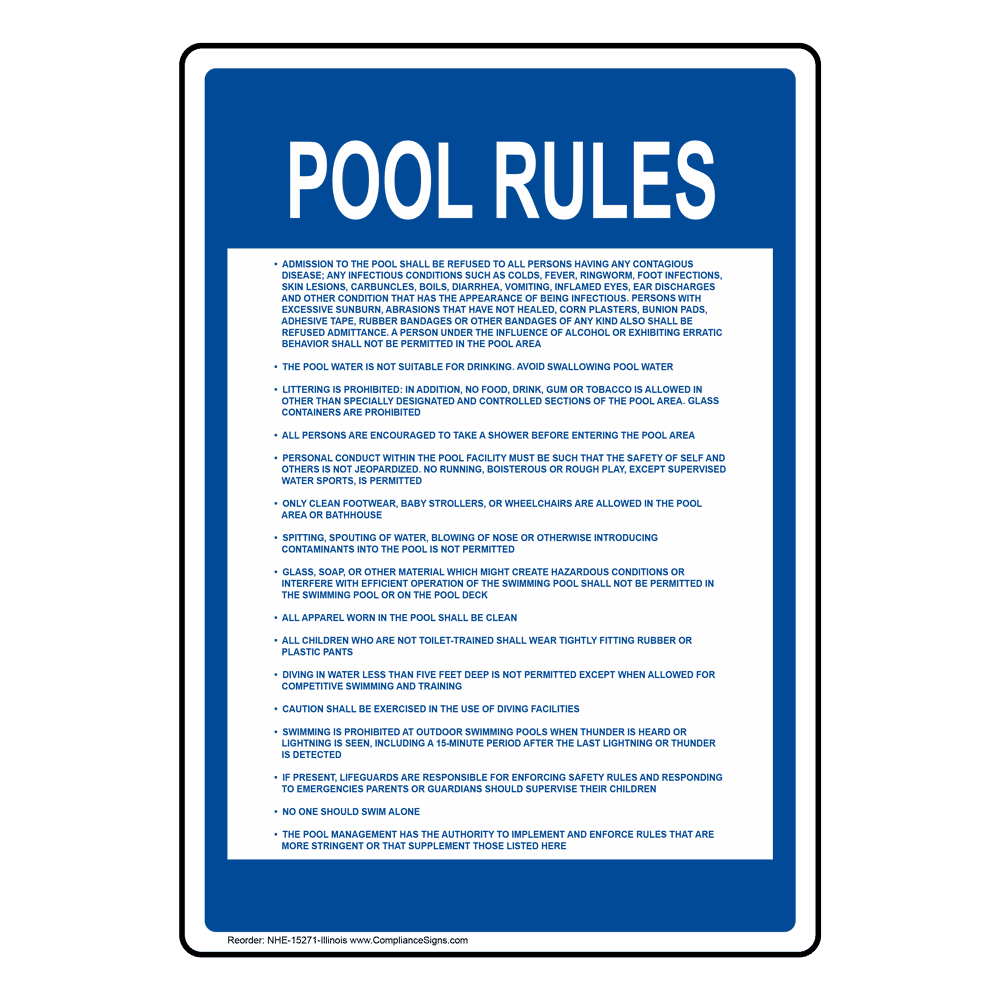 Estimated shipping date:
...loading
Product details
---
Mounting option
Surface Mount
SKU
NHE-15271-Illinois
CS144565
Wording
POOL RULES ADMISSION TO THE POOL SHALL BE REFUSED TO ALL PERSONS HAVING ANY CONTAGIOUS DISEASE; ANY INFECTIOUS CONDITIONS SUCH AS COLDS, FEVER, RINGWORM, FOOT INFECTIONS, SKIN LESIONS, CARBUNCLES, BOILS, DIARRHEA, VOMITING, INFLAMED EYES, EAR DISCHARGES; AND OTHER CONDITION THAT HAS THE APPEARANCE OF BEING INFECTIOUS. PERSONS WITH EXCESSIVE SUNBURN, ABRASIONS THAT HAVE NOT HEALED, CORN PLASTERS, BUNION PADS, ADHESIVE TAPE, RUBBER BANDAGES OR OTHER BANDAGES OF ANY KIND ALSO SHALL BE REFUSED ADMITTANCE. A PERSON UNDER THE INFLUENCE OF ALCOHOL OR EXHIBITING ERRATIC BEHAVIOR SHALL NOT BE PERMITTED IN THE POOL AREA THE POOL WATER IS NOT SUITABLE FOR DRINKING AVOID SWALLOWING POOL WATER LITTERING IS PROHIBITED IN ADDITION, NO FOOD, DRINK, GUM OR TOBACCO IS ALLOWED IN OTHER THAN SPECIALLY DESIGNATED AND CONTROLLED SECTIONS OF THE POOL AREA GLASS CONTAINERS ARE PROHIBITED ALL PERSONS ARE ENCOURAGED TO TAKE A SHOWER BEFORE ENTERING THE POOL AREA PERSONAL CONDUCT WITHIN THE POOL FACILITY MUST BE SUCH THAT THE SAFETY OF SELF AND OTHERS IS NOT JEOPARDIZED NO RUNNING, BOISTEROUS OR ROUGH PLAY, EXCEPT SUPERVISED WATER SPORTS, IS PERMITTED ONLY CLEAN FOOTWEAR, BABY STROLLERS, OR WHEELCHAIRS ARE ALLOWED IN THE POOL AREA OR BATHHOUSE SPITTING, SPOUTING OF WATER, BLOWING OF NOSE OR OTHERWISE INTRODUCING CONTAMINANTS INTO THE POOL IS NOT PERMITTED GLASS, SOAP, OR OTHER MATERIAL WHICH MIGHT CREATE HAZARDOUS CONDITIONS OR INTERFERE WITH EFFICIENT OPERATION OF THE SWIMMING POOL SHALL NOT BE PERMITTED IN THE SWIMMING POOL OR ON THE POOL DECK ALL APPAREL WORN IN THE POOL SHALL BE CLEAN ALL CHILDREN WHO ARE NOT TOILET-TRAINED SHALL WEAR TIGHTLY FITTING RUBBER OR PLASTIC PANTS DIVING IN WATER LESS THAN FIVE FEET DEEP IS NOT PERMITTED EXCEPT WHEN ALLOWED FOR COMPETITIVE SWIMMING AND TRAINING CAUTION SHALL BE EXERCISED IN THE USE OF DIVING FACILITIES SWIMMING IS PROHIBITED AT OUTDOOR SWIMMING POOLS WHEN THUNDER IS HEARD OR LIGHTNING IS SEEN, INCLUDING A 15-MINUTE PERIOD AFTER THE LAST LIGHTNING OR THUNDER IS DETECTED IF PRESENT, LIFEGUARDS ARE RESPONSIBLE FOR ENFORCING SAFETY RULES AND RESPONDING TO EMERGENCIES PARENTS OR GUARDIANS SHOULD SUPERVISE THEIR CHILDREN NO ONE SHOULD SWIM ALONE THE POOL MANAGEMENT HAS THE AUTHORITY TO IMPLEMENT AND ENFORCE RULES THAT ARE MORE STRINGENT OR THAT SUPPLEMENT THOSE LISTED HERE
Description
Illinois Pool Rules Sign on Aluminum, Plastic, Magnetic or Label Substrate
Use this easy-to-read Swimming Pool sign to make your Illinois Recreation message clear to employees and visitors. This US-made sign meets state sign requirements.
Made-to-order sign is UV, chemical, abrasion and moisture resistant for use in a variety of environments.
Substrate choices:

- Enamel-coated 1mm aluminum
- Semi-rigid 1mm PVC plastic
- Flexible vinyl label stock with permanent adhesive
- Heavy duty, flexible magnetic backing that clings to ferrous metals (not stainless steel)
(Select material and size above)

Aluminum and plastic signs have mounting holes in each corner for easy installation.
Labels have self-adhesive backing - just peel and stick.
All are printed with UV-stable ink and are suitable for indoor or outdoor use at service temperatures from -40 to +180 F.
Ships fast from our manufacturing facility.
Click Add To Cart to order this Illinois Swimming Pool sign today.
Customers who bought this also consider
---