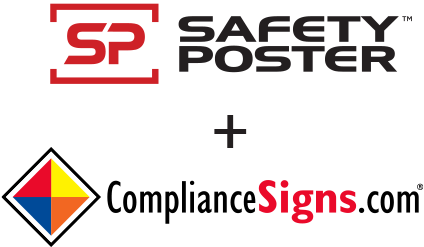 SafetyPoster / ComplianceSigns FAQ
As SafetyPoster merges into ComplianceSigns, you probably have questions about what will change and what won't. This page provides answers to many common questions.
How will this change in ownership impact me?
By merging the two safety-focused brands, we can now offer you a wider selection of products, an improved online experience and a larger customer support team. The quality of our products will remain the same as both ComplianceSigns and SafetyPoster have been using the same materials, processes and quality control inspections.
How will I benefit from this merger?
Customers stand to gain a lot from this merger. You will now have access to a larger selection of safety products, a new and improved website, and additional customer support and resources.
Will my warranties still be in effect?
Moving forward, the ComplianceSigns warranty will apply to all products. ComplianceSigns Warranty
Will the service change?
You can expect the same excellent customer service you have come to expect from both ComplianceSigns and SafetyPoster. We now have a larger customer service team and additional resources, so we hope that the merger only improves the level of service we're able to provide our customers.
Will the product quality change?
No, both SafetyPoster and ComplianceSigns have been using the same quality materials, processes and quality control inspections for some time. And the experienced staff will remain on to ensure we're able to deliver quality products.
Will the return policy change?
Yes. The ComplianceSigns Return Policy will apply to all future purchases. CompliaceSigns Return Policy
Will the quote you gave me still be honored?
Absolutely! Your quote will be honored through the expiration date noted on the quote.
Will there be any staffing changes that might affect me?
Our team is consolidating to a central location and expanding to meet the needs of our valued customers. Due to the move and reorganization, some familiar faces may not be available, but our staff is eager and prepared to meet your needs with exceptional service. Please notify us if we ever fail to do so.
Who do I call if I have a problem or concern?
Our amazing customer service team is ready to help you with any unexpected concerns. Please contact customer service at (800) 578-1245 or [email protected]

Do you offer volume pricing or discounts?
Yes, we offer volume discounts when you purchase as few as 3 identical items. Discounts range up to 30 percent, depending on the type and quantity of signs or labels you order. You'll see a volume discount table on the product page near the area where you select your order quantity. Your discounted price will be shown on the shopping cart page.
Will my credit terms remain the same?
We will honor any existing credit terms and limits of SafetyPoster customers. New customers will follow the standard ComplianceSigns 30-day terms and credit application policy.
Will I need to re-submit a credit application?
New customers are required to submit credit applications for purchase orders exceeding $2,500.
Will I need to create a new account with ComplianceSigns?
For orders under $2,500, we encourage but don't require a ComplianceSigns account. New customers are required to submit credit applications for purchase orders exceeding $2,500.
Will I have access to my SafetyPoster order history in my ComplianceSigns account?
We are working out the technical details, but our goal is to migrate your order history over to your new ComplianceSigns account.
Will my pricing change right away or can you lock in current pricing per my terms?
We will honor any open and unexpired purchase orders and quotes. ComplianceSigns offers competitive pricing on all products.
Do you accept purchase orders? If so, how can I submit one?
Yes. We offer Open Account terms of Net 30 days (some exceptions apply), subject to submittal of references. To expedite your first order while we establish your open account status, please include payment with your order.
Will there be any changes to payment methods?
Payments can be made with a credit card via our online shopping cart, telephone, email or fax. We currently accept Visa, MasterCard, AMEX and Discover. There is no additional charge for credit card payments.
What if I am tax exempt?
We are actively working on making this a streamlined checkout process on our website, so stay tuned for an updated process. For now, you can email your tax certificate to our sales team at [email protected] along with your purchase order or call us at (800) 578-1245 to pay by credit card.
Will your hours of operation remain the same?
Our hours have been adjusted slightly and expanded to best serve our customers. Our business hours are 8:00 a.m. to 7:00 p.m. Eastern Time, Monday-Friday.
Will your return policy remain the same?
We want you to be totally satisfied with your new signs. If you have any issues with your order or if you need to make a change to your order after you've received it, please contact us at (800) 578-1245 or [email protected], so we can correct the problem and authorize a return or exchange. For more information, read our full return and exchange policy.
Where are you located? What's your address?
ComplianceSigns.com, 16228 Flight Path Dr., Brooksville, FL 34604
How do I request a quote?
Pricing for posters and most signs and labels can be found directly on our website, even for custom designs. But if you'd like to discuss requirements or speak to a sales representative about a custom poster quote, call (800) 578-1245 or email [email protected]
Do you still manufacture the products in-house?
Yes, we make all our posters, signs and labels in the U.S. and all posters and signs are made-to-order.
Will the product quality remain the same?
Yes, the quality of the products will remain the same. Also, all products are warrantied by ComplianceSigns.com to be free of defects in material or workmanship at the time of shipment. Defective products, subject to inspection by ComplianceSigns.com, will be replaced or repaired at no charge. Damage caused by accidents or improper use is the responsibility of the Buyer. This warranty is in lieu of any other warranty expressed or implied. For more information, read our full warranty.
Will SafetyPoster part numbers change?
Yes, but most original SafetyPoster part numbers will still be searchable on ComplianceSigns.com.
Will all SafetyPoster products be available on ComplianceSigns.com?
Not necessarily. But if an old SafetyPoster part number is not migrated over to ComplianceSigns.com, an alternate product will be offered when searching.
Is there a section on ComplianceSigns.com where I can view SafetyPoster products?
Yes. We have created a SafetyPoster page with links to the most popular SafetyPoster product categories. Or simply type "SafetyPoster" in the search bar at the top of any page to see SafetyPoster products.
How long will it take to receive my order?
Orders are processed in the order they are received. All posters, signs and tags are made-to-order (not stocked on shelves) and shipped as soon as possible upon verification and approval of payment. Throughout 2021, we have experiencing longer than-usual lead-times on some items, as well as extended delivery times. Please contact us with questions related to specific items or your order fulfillment.
Processing and shipping times don't include non-business days (Saturdays, Sundays and holidays). If your order is especially urgent, we strongly recommend contacting us directly so we can expedite shipping.
Will custom artwork still be available?
Yes! To create a custom poster, contact us by phone at (800) 578-1245.
I am an international customer, am I expected to pay in USD? How do I pay?
International orders can be paid for with a credit card or a wire transfer in USD at the time the order is placed. Orders of more than $5,000 must be paid for with a wire transfer. International customers will not be eligible for terms at this time. All international shipments (and shipments to HI and AK) are subject to additional freight charges. You can request a freight quote before an order is placed by contacting our customer service representatives at (800) 578-1245 or [email protected]