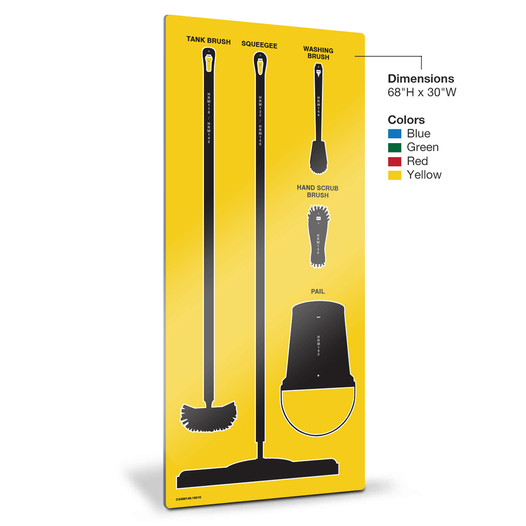 Yellow WetZone Tools 5S Shadow Board
Product details
---
Mounting option
Surface-Mount
SKU
WZ-Y

WZ-Y, WZYBXNT, WZYBANT, WZYBCNT, WZYBCSNT, WZYWXNT, WZYWANT, WZYWCNT, WZYWCSNT, WZYBXWT, WZYBAWT, WZYBCWT, WZYBCSWT, WZYWXWT, WZYWAWT, WZYWCWT, WZYWCSWT
Wording
WetZone Tools 5S Shadow Board - Yellow
Description
Yellow 5S Toolboard for Wet Cleaning Tools
Use this color-coded WetZone tool shadow board to store 5 common wet cleaning tools.
Color-coded tool board easily identifies items to be used in specific areas to help prevent cross-contamination and maintain HAACP control points.
Available with or without color-coded tools that match the shadow color (select above).
68 in. x 30-in. yellow shadow board is available in 4 materials:
- Xtreme Aluminum - 0.080-in. aluminum that stands up to rough use
- AL1-Plus Aluminum - 0.236-inch thick material comprised of a composite plastic core bonded to two layers of aluminum. 40% lighter than solid aluminum.
- CompShield - 2-ply, non-glare, polycarbonate plastic that resists color changes, chemical splashes, corrosion and abrasions. With sub-surface print.
- CompShield-AM - Our CompShield material with Antimicrobial protection
Stainless steel tool hangers are included.
Tool shadows are designed for these tools: Tank brush, Squeege, Long-handle brush, Long-handle scrub brush, 3-gallon pail.
This WetZone tool board is available with or without tools, and in other colors. (Select Above)
NOTE: Tool shadow boards ship by freight only.
Click Add to Cart to order this yellow WetZone 5S tool shadow board today.
Designed for These Tools (included if you select "With Tools" above):

Vikan Tank Brush
Vikan 51-inch Plastic Handle
Vikan 24-inch Squeegee
Vikan 59-inch Plastic Handle
Vikan Long Handle Stiff Brush
Vikan Hand Scrub Stiff Brush
Vikan 3=Gallon Pail