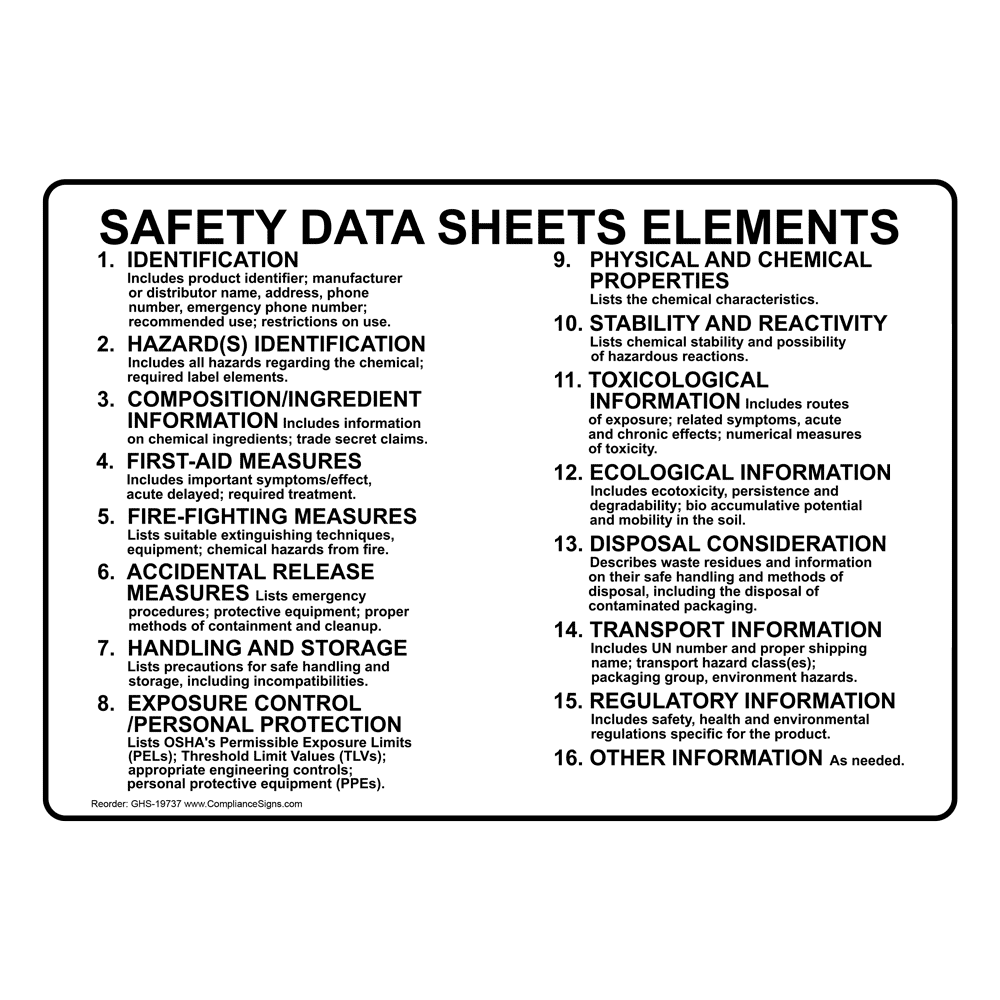 Safety Data Sheets Elements Sign MSDS / Right to Know
Product details
---
Mounting option
Surface Mount
Wording
SAFETY DATA SHEET ELEMENTS 1. IDENTIFICATION Includes product identifier; manufacturer or distributor name, address, phone number, emergency phone number; recommended use; restrictions on use. 2. HAZARD(S) IDENTIFICATION Includes all hazards regarding the chemical; required label elements. 3. COMPOSITION/INGREDIENT INFORMATION Includes information on chemical ingredients; trade secret claims. 4. FIRST-AID MEASURES Includes important symptoms/effect, acute delayed; required treatment. 5. FIRE-FIGHTING MEASURES Lists suitable extinguishing techniques, equipment; chemical hazards from fire. 6. ACCIDENTAL RELEASE MEASURES Lists emergency procedures; protective equipment; proper methods of containment and cleanup. 7. HANDLING AND STORAGE Lists precautions for safe handling and storage, including incompatibilities. 8. EXPOSURE CONTROL/PERSONAL PROTECTION Lists OSHA's Permissible Exposure Limits (PELs); Threshold Limit Values (TLVs); appropriate engineering controls; personal protective equipment (PPEs). 9. PHYSICAL AND CHEMICAL PROPERTIES Lists the chemical characteristics. 10.STABILITY AND REACTIVITY Lists chemical stability and possibility of hazardous reactions. 11.TOXICOLOGICAL INFORMATION includes routes of exposure; related symptoms, acute and chronic effects; numerical measures of toxicity. 12.ECOLOGICAL INFORMATION Includes ecotoxicity, persistence and degradability; bio accumulative potential and mobility in the soil. 13.DISPOSAL CONSIDERATION Describes waste residues and information on their safe handling and methods of disposal, including the disposal of contaminated packaging. 14.TRANSPORT INFORMATION Includes UN number and proper shipping name; transport hazard class(es); packaging group, environment hazards. 15.REGUALTORY INFORMATION includes safety, health and environmental regulations specific for the product. 16.OTHER INFORMATION as needed.
Description
White Safety Data Sheets Elements Sign with Symbol on Aluminum, Plastic, Magnetic or Label
This easy-to-read MSDS / Right to Know sign with bold text and graphic symbol makes your Hazmat message clear to employees and visitors. This US-made sign ships fast from our manufacturing facility.
Made-to-order sign is UV, chemical, abrasion and moisture resistant for use in a variety of environments.
Substrate choices:

- Rigid AL-Plus 3-mm aluminum composite
- Semi-rigid 1mm PVC plastic
- Flexible vinyl label stock with permanent adhesive
- Heavy duty, flexible magnetic backing that clings to ferrous metals (not stainless steel)
(Select material and size above)

Aluminum and plastic signs have mounting holes in each corner for easy installation.
Labels have self-adhesive backing - just peel and stick to a clean, dry surface.
All are printed with UV-stable ink and are suitable for indoor or outdoor use at service temperatures from -40 to +180 F.
Click Add To Cart to order this MSDS / Right to Know sign today.
Our NEW AL-Plus Aluminum is a rigid and durable aluminum composite comprised of two sheets of aluminum laminated to a thermoplastic core. It is thicker and stiffer than our standard aluminum, and durable for 10 years outdoors. We are substituting this upgraded material (at no additional cost) because the supply of traditional aluminum has become unreliable. Switching to AL-Plus helps avoid delays producing your signs. We are confident you will be pleased with AL-Plus aluminum signs.
Customers who bought this also consider
---