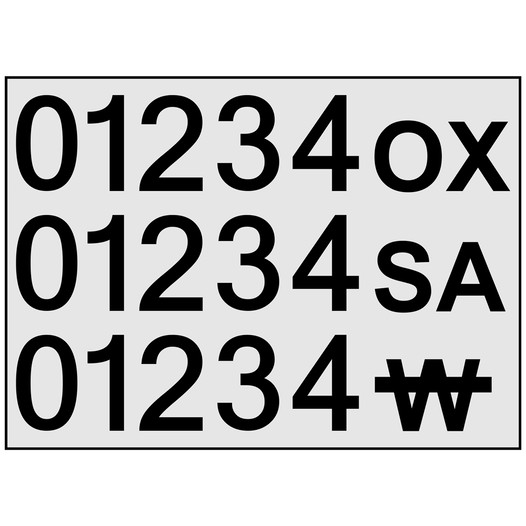 NFPA 704 Diamond Cut Vinyl Number Kit Label
Product details
---
Mounting option
Self-Adhesive
Wording
CUT VINYL NUMBER KIT2 (Diamond Sign Blank ordered separately)
Description
Cut Vinyl NFPA 704 Hazard Level Number / Authorized Symbol Kit
Use this self-adhesive vinyl numbering kit with our blank NFPA diamond signs to create the exact hazmat sign you need - or update your existing signs or labels. Select the right size for your sign from the options above.
Sheet of cut-vinyl numbers and three authorized NFPA Special Hazard symbols has permanent adhesive.
Cut vinyl characters have easy-to-remove backing - just peel and stick.
Printed on 3 mil vinyl that is UV, chemical, abrasion and moisture resistant for long life in varied environments.
Use indoors or out.
Order your NFPA Diamond sign blank separately.
NOTE: This kit includes the three Special Hazard graphics that are authorized by the NFPA. Your local emergency authorities may require different or additional symbols. We recommend you consult with local authorities to ensure clear communication of special hazards.
We also offer a kit with 9 additional Special Hazard symbols. View our NFPA_NUMKIT here.
Size Reference: