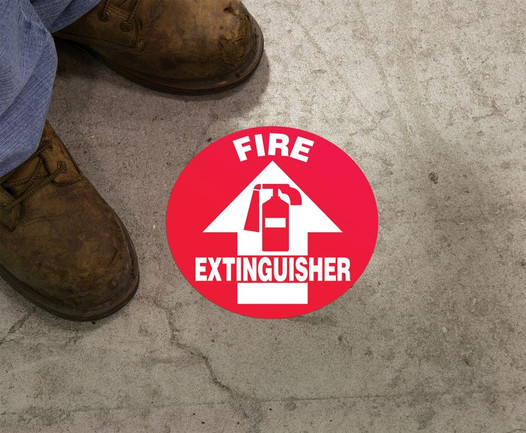 ---
Description
Use this floor sign to bring attention to the fire extinguisher.
 
Simply clean the surface to which the graphic will be applied, peel the release liner from the adhesive and compress the sign to the floor for maximum adhesion.
 
Message visible through the clear, yet coarse, surface layer.
Clearly indicate the location of fire extinguishers.
Highly conspicuous floor signs take up no extra room and are easily identifiable.
Wear-, weather-, and water-resistant under normal traffic conditions for both indoor and outdoor environments.
Floor sign installs quickly and easily with high-tack acrylic adhesive back and peel-off liner.
Flexible 4-mil thick vinyl with acrylic adhesive.
Non-glare surface printed.
Moisture resistant.
Service temperature range: -40 deg to 176 deg F
 
Size:Â  8" and 17" dia, 4-mil Th
Qty: price is per each.
 
Don't see the size you need, let us know what size you are looking for and we would be happy to provide you with a quote.

Slip-Gard Fire Extinguisher Circle Sign
Customers who bought this also consider
---