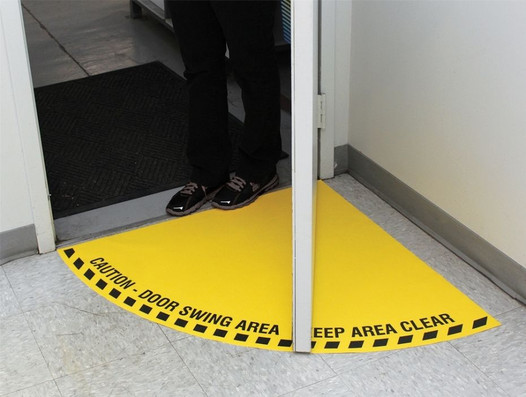 ---
Description
Improve safety around doorways with the door swing area floor sign.
Our half door swing area floor sign:
1. Provides a slip-resistant walkway.Manufactured with strong, permanent acrylic adhesive, these signs stay where you put them. The protective, non-slip, pebble-textured vinyl surface provides added friction to help minimize accidents.
2. Highlights doorways to keep them clutter-free.
The bold yellow design creates an unmistakable visual cue to your team members to keep the doorway clear. They can also see exactly how much room they have to work with when storing or arranging products. The half-size door sign is especially helpful when it is not necessary for doorways to open fully, therefore maximizing limited space. 
In addition to the safety and space-saving features, these signs also install easily. Simply follow these four easy steps:
Clean the area to which the sign will be applied
Peel the release liner from the adhesive
Locate the indicator to show the sweep of the door
Press the sign to the floor for maximum adhesion
Specifications for the Half Door Swing Area Floor Sign
This eye-catching sign features:
Size: ranges from 28" to 36"
Material: 0.027" thick vinyl with printed graphics protected by a layer of non-slip, pebble-textured laminate
Application: peel off the back liner to reveal the strong acrylic adhesive
Priced per each floor sign
Don't see the size you need? Contact us for a quote on a custom-made sign.

Caution HALF Door Swing Area Floor Sign