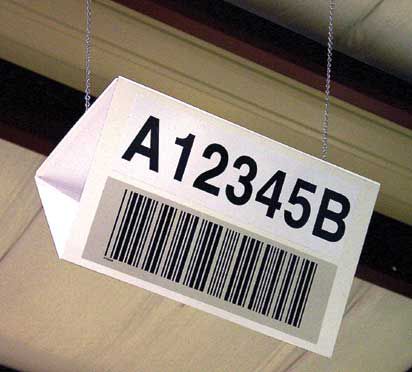 ---
Description
Plain sign to apply your own lettering or symbols.  Signs can be suspended from a ceiling, beam, or above an area.

Style: Dual Angled
Material: Lightweight, durable .04" plastic
Colors: White, blue, yellow, green, red
Qty: one
Includes: two holes, snap-in chain mounts, top edge stiffeners (on larger size only).
Additional chain material would be needed in order to hang the sign from the ceiling.  (Sold separately Part # 50ACHAIN12)
Sign ships flat, simple assembly is required.
Hanging Sign Applications
- Locating warehouse aisles and racks
- Hanging bar codes under racks and shelves
- Suspending markers over conveyors, flow lines, and bays
- Identifying docks, bays, work areas
- Scanning bar codes above warehouse racks - angle is adjustable for readability
NOTE: This sign is blank. No letters or graphics included.  Customization is available.  Send an email [email protected] with sign size, quantity, and customization details and we will provide you with a quote.  Or give us a call at 978-842-4610.

Blank 11 in. x 18 in. Dual Angled Hanging Sign