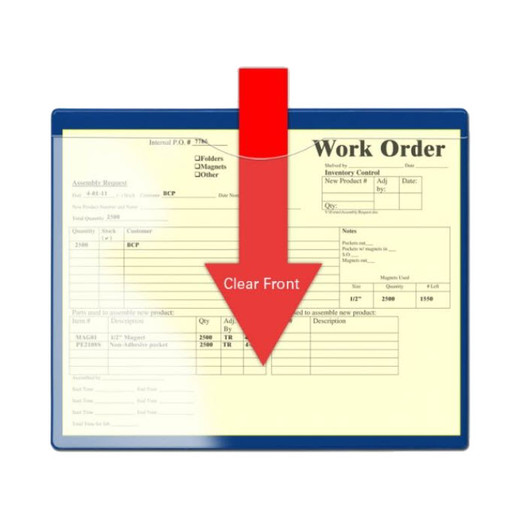 ---
Description
File Jackets help you organize quickly.
Track and categorize your letters, quotes, and projects easily.
Sealed on three sides with a thumb-notch for easy access.
Can be placed horizontally or vertically on magnetic whiteboards.
Magnets: Two strong 1/2" x 11" magnetic strips on both long sides on back.
Capacity: 40 letter-size 8-1/2" x 11" papers
Overall Size: 9" x 11-5/8"
Front: made of ink-resistant, 8-gauge, crystal-clear, heavy-duty vinyl
Back: 12-14 gauge opaque color vinyl
Dry Erase friendly material.
Colors: Black, Blue, Clear, Gold, Green, Maroon, Red, White, Yellow
      Notice: Brown & Gray DISCONTINUED.
Qty: One  (price per each holder)

NOTE: Same day shipping not available for this item.  Lead time is 2-3 business days.  Rush shipments will ship in 2-3 business days.  See Shipping Info tab for more details.
 
California Proposition 65 Warning: This product contains chemicals known to the state of California to cause cancer, birth defects or other reproductive harm.

8.5" x 11" Magnetic Document Holder