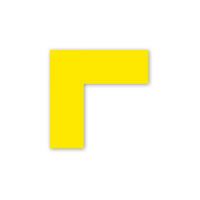 ---
Description
Conquer harsh industrial environments with viZ-Mark heavy-duty corner markers. 50 pk
When you're moving product, the last thing you need to worry about is if your floor marking system will still be there when you're done. Corner markers from viZ-Mark have a specially engineered surface layer designed to resist damage caused by pivoting and skidding forklift wheels - two of the most common causes of aisle marking destruction. Aggressive, conforming adhesive keeps this marker in place, and the beveled edge helps pallets slide over the marker without tearing. 
Support your lean system with visual cues.
We carry a wide selection of colors to fit with any color-coding system. Use different colors to denote the types and categories of materials. 
Specifications for the viZ-Mark Heavy Duty Corner Marker
This tough floor marker features:
Size: 6" x 6" x 2", Sharp Corners
Thickness: 30 mils
Qty: Pack of 50
11 Colors: Black, Brown, Dark Blue, Gray, Green, Light Blue, Orange, Purple, Red, White & Yellow
Material: PVC
Glue: Rubber Based
Beveled Edge: Yes
New Smooth Floors: Superior
Sealed/Epoxied Floors: Superior
Oily, Wet, Dirty Floors: OK, when properly cleaned and prepared
Unsealed Floors: OK
Uneven Floors: Not Recommended
Chipped/Gouged Floors: Not Recommended
Heavy Forklift Traffic: Superior
Skidding/Pivoting: Superior
Freezer: Not Recommended
Warranty Guidelines:
Covered by a solid 2-year warranty. Situations exempt from warranty include:
If a product comes up from the floor due to the floor not being cleaned or cleaned properly before installation.
If the product is pulled up by a pallet being dragged or pulled by a forklift/tow motor.
NOT RECOMMENDED: The following is a list of applications where the use of viZ-Mark is not recommended and could potentially present a safety hazard: Freezers or environments where the ambient temperature regularly drops below 40°F. Any diamond plate surface. Textured or pebbled concrete surfaces. (In the case of a fine grit texture, Supreme V might possibly work, but we recommend testing before purchase). Floors that sweat in the summer humidity. Excessively gouged or chipped floors. Covering paint that is releasing from the floor. Stair treads. No warranty for outdoor use.
We suggest testing the product to ensure it is a good fit for your application. Samples are available.
Made in the USA

6 x 6 x 2 in. viZ-Mark Heavy Duty Corner Marker, 50 pk