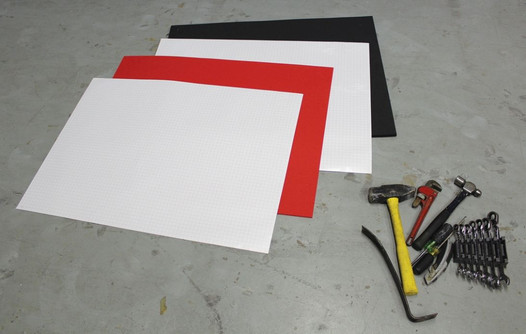 ---
Description
Do It Yourself Foam Tool Organizer Kits
Use foam kits to organize your tool drawers, tool trays, or tool boxes.

Eliminate wasted time looking for tools, rummaging through drawers, and sorting through loose tools. Tools organized, inserted and stored for easy access can enhance and promote the awareness of tool accountability and asset management, while elevating productivity.

Foam sheets are ideal to customize your own tool layout. Cut out the shapes to set and fit your tools. Foam also protects the tools and their containers from scratches and damage, while keeping them organized, convenient, and ready for any job.

Two-color, two-layer contrast liner foam sheets visually highlight the tool 'shadow' to quickly determine and identify when any tool is in use or missing. Also, meet Foreign Object Damage (FOD) and Foreign Material Exclusion (FME) prevention programs.

Dense, textured polyethylene foam is chemically cross-linked to be durable, strong and heat stable, yet lightweight. Foam is designed to resist oils, solvents, and jet fuels for up to three years.

DIY Kit Includes: (1) 1/2" top layer foam, (1) 1/4" bottom layer foam, (2) adhesive backed grid sheets.

Sizes: 40" x 27"
4 Color Options: Black/Red, Black/Yellow, Blue/Red, Blue/Yellow

NOTE: This item is made to order.  Same day shipping not available.  Lead time is 3-5 business days.  Rush shipments will ship in 3-5 business days. 
Large quantity orders will ship out freight.  Shipping charges will be adjusted accordingly after the order ships.
** CUSTOMIZABLE ** check out the custom tab above for more information.

Optional cutting tools which can be used to cut the foam: Foam Board Cutter, Foam Hot Knife, Hot Wire, Foam Knife.  Tools can be purchased at any industrial supply company.

40" x 27" DIY Foam Tool Organizer Kit