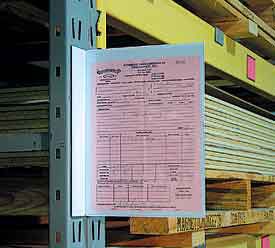 ---
Description
Pouch is a clear, sturdy vinyl.
Each sign has a 1" - 2" foot.
A strong adhesive or magnetic strip.
Adhesive strip is on the 4" side of the sign.
Colors: white or yellow.
2 pouches per sign, one on each side.
Pouch size 4" x 6".
Qty: 1 double sided sign
Mounting Options: Adhesive, Magnetic
Color Options: White, Yellow
Image shows magnetic mount white sign.

 
Item# 50HW2P46-(mounting & color)

4 in. x 6 in. Warehouse Rack 2 Pouch Sign Holder