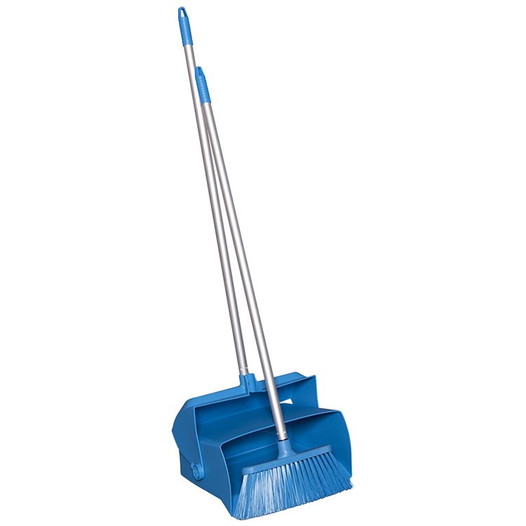 ---
Description
Our lobby dustpan was created with food processors and food service workers in mind. Made with FDA approved materials.
Maintain a cleaner and more hygienic environment with this washable dustpan and broom set. Having a different set in each area of your business cuts down on the possibility of the spread of germs.
The dustpan has no hard edges or witness lines that could trap food residue or bacteria and can be easily disassembled and reassembled for regular washing and sanitizing. The large, 7" by 14" bin allows for big and small cleanup jobs while the tall, 37" handle alleviates back pain that stems from leaning over shorter dustpans.
Handle length: 37"
Dustpan + Broom weight: 3.4lbs
Dustbin dim: 13.5" H x 14.56" W x 7.136" D
Overall dustbin height with handle (in closed position): 47.5"
Broom width: 11" W with a 3.5" trim
Overall broom and handle length: 41.5"
Made with FDA approved materials compliant with 21 CFR
Colors: Black, Blue, Gray, Green, Orange, Pink, Purple, Red, White & Yellow

15 in. Lobby Dustpan and Broom Set