Make Custom NFPA 704 Hazmat Diamond Signs & Labels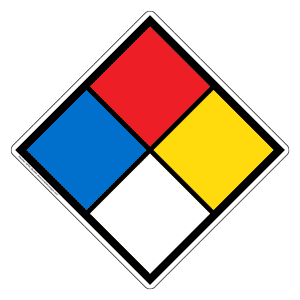 Rating Explanation Guide

HEALTH HAZARD
FLAMMABILITY HAZARD
INSTABILITY HAZARD
4 = Can be lethal
4 = Below 73 Degrees F
4 = May explode at normal temperatures and pressures
3 = Can cause serious or permanent injury
3 = Above 73 Degrees
3 = May explode at high temperature or shock
2 = Can cause temporary incapacitation or residual injury
2 = Above 100 Degrees F,
2 = Violent chemical change at high temperatures or pressures
1 = Can cause significant irritation
1 = Above 200 Degrees F
1 = Normally stable. High temperatures make unstable
0 = No hazard
0 = Will not burn
0 = Stable
This chart is for reference use only. To determine specifications, you can purchase a copy of the NFPA 704 standard here..
The National Fire Protection Agency (NFPA), in section 704 of the National Fire Code, specifies a system for identifying hazards associated with various materials. Proper identification of hazards is essential for emergency responders and anyone who needs to handle such materials. NFPA diamond labels are typically placed outside buildings, on doors and on tanks, where they will be visible to emergency responders during a spill or fire.
*NOTES on SPECIAL HAZARD SYMBOLS: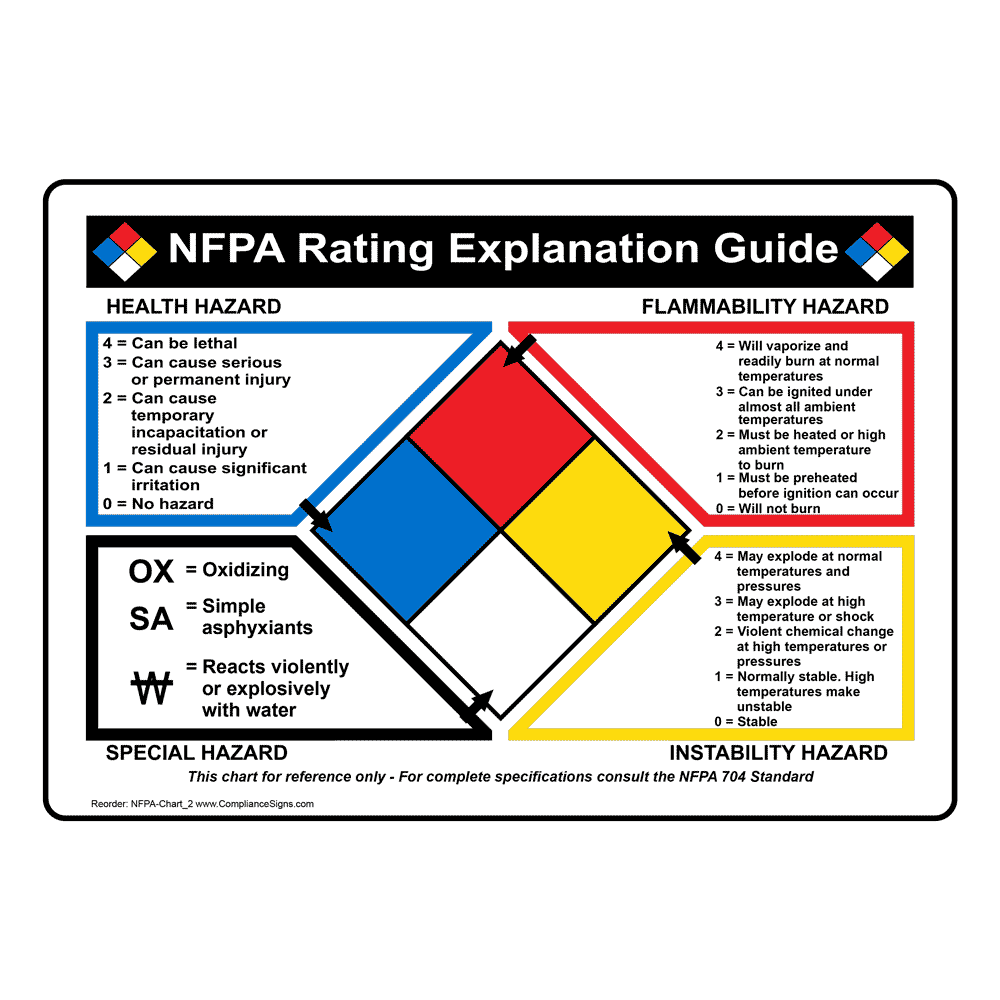 Although NFPA diamond labels commonly are created with a variety of symbols, only three symbols are authorized by the NFPA for use on Hazmat Diamonds: OX, SA and W. These approved symbols are indicated on the dropdown menu above.


Authorized Special
Hazard Symbols

Non-authorized
Symbols**
OX - Oxidizer
ACID - Acid
SA - Asphyxiant
ALK - Alkaline
W - No Water
COR - Corrosive
COR+OX - Corrosive Oxidizer
COR+OXY - Corrosive Oxidizer
CRY - Cryogenic
OXY - Oxidizer Agent
W + OX - No Water Oxidizer
RAD - Radioactive
**Emergency responders in your area might not recognize non-authorized fire hazard symbols, because they are not defined in NFPA 704. Before using these symbols, consult your local emergency response team regarding size and placement of non-authorized symbols with your NFPA diamond.
Need NFPA Diamond Signs with Chemical Name, CAS # or Custom Text?
You can create one here: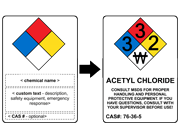 Trust ComplianceSigns.com for NFPA 704 labels and NFPA diamond signs to help emergency responders understand fire hazards and hazardous chemicals in your workplace.
NFPA 704 Diamond FAQs
Helpful Info on NFPA Diamond Stickers from the NFPA:
When are NFPA Diamonds Required?
NFPA 704 labels are required whenever another regulation or code (Federal, state or local) requires their use. The NFPA 704 does not specify WHEN labels must be used -- it tells HOW to label when another agency requires NFPA labeling.
Some common NFPA codes that require 704 labels for specific occupancies, storage, and hazardous materials, include:
NFPA 1 - Fire Code
NFPA 30 - Flammable and Combustible Liquids Code
NFPA 45 - Standard on Fire Protection for Laboratories Using Chemicals
NFPA 55 - Compressed Gases and Cryogenic Fluids Codes
NFPA 400 - Hazardous Materials Code
Some facilities install NFPA 704 placards regardless of actual requirements in order to provide additional information on the material hazards on their sites.

Where Can I Find NFPA Ratings in the Standard?
NFPA 704 does not include hazard ratings for specific chemicals. Hazard evaluations should be performed by persons who are technically competent and experienced in the interpretation of hazard criteria identified in the Standard. A qualified person can determine the ratings for a material by comparing a manufacturer-supplied safety data sheet (SDSs) to the NFPA criteria. Some SDSs include NFPA 704 Diamond information or rating numbers, but it is not required.

How Do I Use an SDS to Rate my Hazardous Materials?
A qualified person can determine ratings by using information found on a HazCom-compliant Safety Data Sheet (SDS) and comparing it to the criteria provided in NFPA 704. The NFPA says the following sections of an SDS should be reviewed when determining hazard ratings:
Health – Sections 2, 4, 8, 9, 11
Flammability – Sections 2, 3, 9
Instability – Sections 5, 7, 10
Special Hazards – Sections 5, 9, 10, 11
NOTE: Do NOT use the GHS hazard category numbers shown in section 2 of HazCom-compliant SDSs as NFPA 704 Hazard Ratings. GHS numbers are not the same as NFPA hazard ratings. (For GHS, 1 is most hazardous - the opposite of NFPA 704.)

Where Should I Post NFPA 704 Signs and Labels, and How Many Do I Need?
NFPA placards are intended to provide emergency responders with quick hazard information. So, they should be visible wherever emergency responders are likely to enter. If there are many entrances, you will need many NFPA Diamond signs or labels.
Placement and quantity should be based on your best judgment combined with advice from your Authority Having Jurisdiction. At a minimum, a placard should be posted on two exterior walls of a facility or building, at each access to a room or area, or at each principal means of access to an exterior storage location. Review Section 4.3 of NFPA 704 for location guidance.

What Size NFPA 704 Label is Required?
Sign or placard size depends on the distance at which the hazard ratings must be legible. Chapter 9 of NFPA 704 gives guidance on the size of the hazard ratings relative to the size of the placard, and also the minimum size of ratings based on the distance at which the ratings are legible. Your local jurisdiction may have minimum size requirements.
Learn more about why the NFPA Diamond is important at SafeWork Insider.