Make Custom NFPA 704 Hazmat Diamonds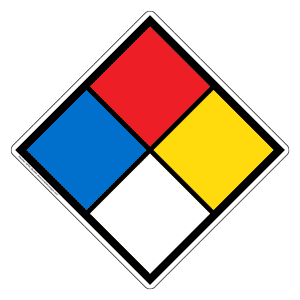 Rating Explanation Guide

HEALTH HAZARD
FLAMMABILITY HAZARD
INSTABILITY HAZARD
4 = Can be lethal
4 = Below 73 Degrees F
4 = May explode at normal temperatures and pressures
3 = Can cause serious or permanent injury
3 = Above 73 Degrees
3 = May explode at high temperature or shock
2 = Can cause temporary incapacitation or residual injury
2 = Above 100 Degrees F,
2 = Violent chemical change at high temperatures or pressures
1 = Can cause significant irritation
1 = Above 200 Degrees F
1 = Normally stable. High temperatures make unstable
0 = No hazard
0 = Will not burn
0 = Stable
This chart is for reference use only. To determine specifications, you can purchase a copy of the NFPA 704 standard here..
The National Fire Protection Agency (NFPA), in section 704 of the National Fire Code, specifies a system for identifying hazards associated with various materials. Proper identification of hazards is essential for emergency responders and anyone who needs to handle such materials.
*NOTES on SPECIAL HAZARD SYMBOLS: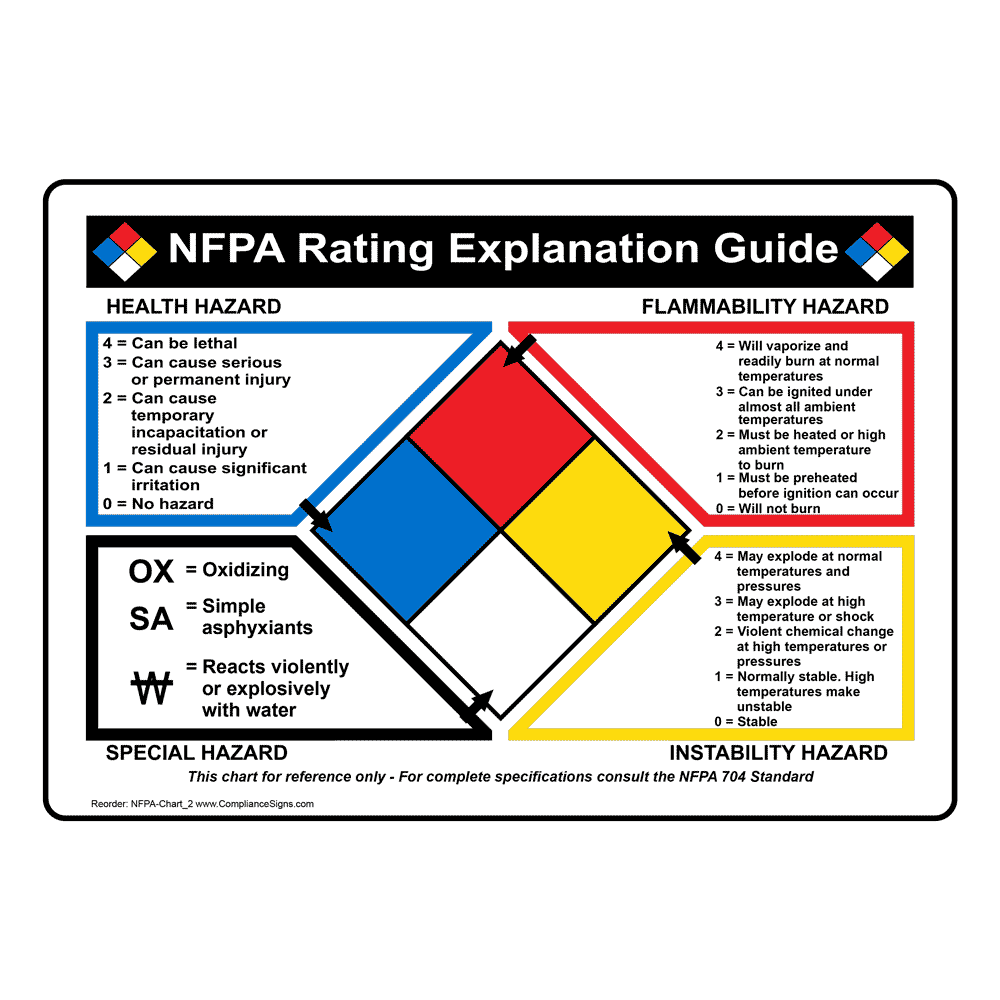 Although NFPA diamonds commonly are created with a variety of symbols, only three symbols are authorized by the NFPA for use on Hazmat Diamonds: OX, SA and W. These approved symbols are indicated on the dropdown menu above.


Authorized Special
Hazard Symbols

Non-authorized
Symbols**
OX - Oxidizer
ACID - Acid
SA - Asphyxiant
ALK - Alkaline
W - No Water
COR - Corrosive
COR+OX - Corrosive Oxidizer
COR+OXY - Corrosive Oxidizer
CRY - Cryogenic
OXY - Oxidizer Agent
W + OX - No Water Oxidizer
RAD - Radioactive
**Emergency responders in your area might not recognize non-authorized symbols, because they are not defined in NFPA 704. Before using these symbols, consult your local emergency response team regarding size and placement of non-authorized symbols with your NFPA diamond.
Need NFPA Diamonds with Chemical Name, CAS # or Custom Text?
You can create one here: