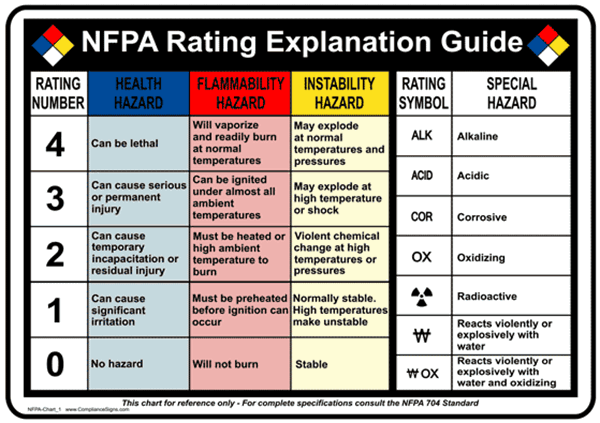 Order online today for fastest service, or contact us at 800-578-1245 or sales@compliancesigns.com.
Don't see the sign you need?
Click here to customize a sign or contact us to discuss your needs.
Custom orders: We will manufacture your 704 signs to your specifications at our manufacturing facility. Just click the link for custom safety signs. Find the diamond, label style of sign you need and click on it. Then tell us in the text box what the sign needs to say and quantity needed.
Our inventory of 60,000 sign SKUs includes NFPA diamonds, labels, fire diamonds, kits and Explanation Guides. Following NFPA label rules and regulations relating to proper signage is critical in the event of an emergency. During a crisis, fire departments and other emergency crews need the information on the diamond label or sign to determine the appropriate precautions and procedures.
The NFPA's Role in Fire Diamond Labels and Signs

The mission of the international nonprofit NFPA is to reduce the worldwide burden of fire and other hazards on the quality of life by providing and advocating consensus codes and standards, research, training, and education. Established in 1896, the organization serves as the world's leading advocate of fire prevention and is an authoritative source on public safety. NFPA's 300 codes and standards influence every building, process, service, design, and installation in the United States, as well as many of those used in other countries. The organization outlines fire diamonds coding. For more information, visit the NFPA at www.NFPA.org.
While not affiliated with the NFPA directly, we offer a wide selection of diamond 704 rules and regulations related to 704 labels to meet your specific application requirements. For information on NFPA 704 sign design and installation, review our NFPA 704 Signs Compliance - Resource Bulletin (pdf).