Hazard Communication Posters
Get to Know GHS with Proper Hazard Communication  
Any facility storing or handling hazardous chemicals is legally required to post the appropriate safety posters. Keep your workplace safe and compliant with Safety Poster hazard communication (Haz-Com) products. These posters ensure your employees understand the Globally Harmonized System of Classification and Labeling of Chemicals (GHS), which is the standard for labeling hazardous chemicals. Pick up posters explaining the GHS system as well as signs for each individual symbol to further educate your staff on how to safely handle harmful chemicals.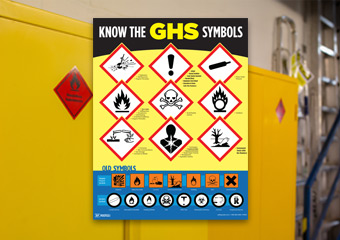 Refine by
turnto_average_rating_bucket 
Why You Need Haz-Com Safety Posters
These colorful safety posters help workers understand the risks posed by hazardous chemicals and the importance of proper communication when it comes to hazardous material handling. Safety posters are one of the easiest and most effective ways to reinforce key safety messages at a time and place where they are most necessary. Haz-Com Safety posters: 
Bring attention to the importance of hazard communication

 

Address Haz-Com and GHS issues specific to your workplace

 

Reinforce your Haz-Com training and guidelines

 
To keep Haz-Com top-of-mind, your safety posters need to capture employees' attention and provide a consistent message. Make sure you: 
Select posters that reinforce training messages

 

Keep the message fresh by frequently rotating in new posters

 

Place safety posters where the message is most relevant — not just in hallways or the break room

 
Resources:
Chemical and Hazmat Tips and Articles
Are You Choosing the Right Safety Posters? 
3 ways to make sure people read your posters