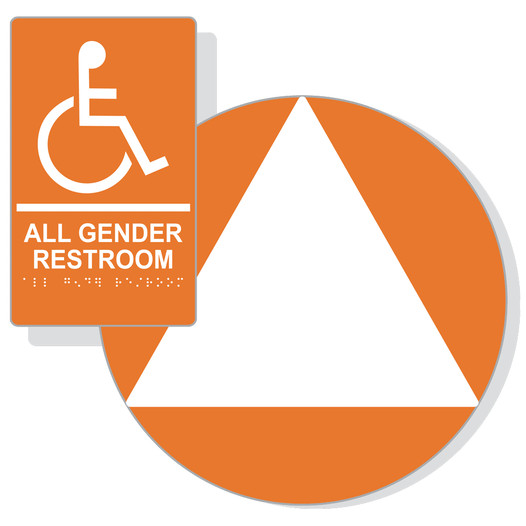 White on Orange California Title 24 Accessible All Gender Restroom Sign Set
SKU: RRE-35205_DCT_Title24Set_White_on_Orange
Product details
---
Construction
Tactile + Braille
Mounting option
Surface Mount
SKU
RRE-35205_DCT_Title24Set_White_on_Orange
CS139613
Wording
ALL GENDER RESTROOM (Braille = All Gender Restroom)
Description
White-on-Orange California Title 24 Unisex Accessible Restroom Sign Set
This 2-piece, California Title 24-compliant Unisex Accessible Restroom Sign Set includes a triangle-on-circle geometric door symbol and a matching 6x9-inch ALL GENDER RESTROOM wall sign with tactile symbol, English text and Braille.
Use this sign set to identify all-gender toilet facilities, including single-user facilities, to comply with Title 24 provisions and California AB 1732.
The ADA-compliant wall sign features tactile symbols and wording with Grade 2 Braille that meets California Braille spacing standards.
The 12-in. diameter door symbol is made of 2 layers of 1/4-in. thick laminated acrylic plastic.
Both pieces have a matte finish for improved visibility and tactile feel.
These US-made signs mount easily with included adhesive mounting strips.
Click Add to Cart to order this California Title 24 Braille restroom sign set today.
Learn more about Title 24 sign requirements, including location and installation, with our Title 24 Compliance - Resource Bulletin (pdf).