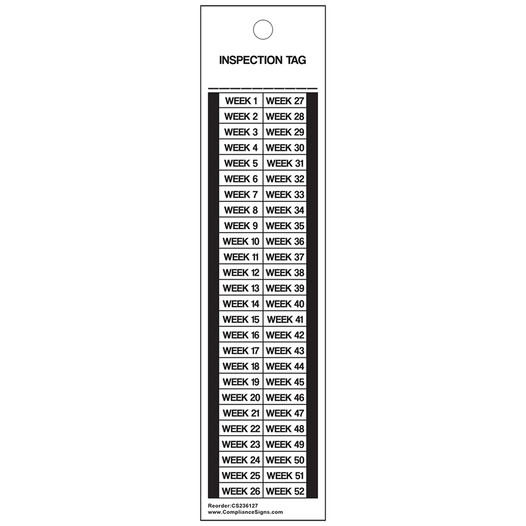 White 52-Week Inspection Tag
Product details
---
Wording
INSPECTION TAG WEEK 1 WEEK 2 WEEK 3 WEEK 4 WEEK 5 WEEK 6 WEEK 7 WEEK 8 WEEK 9 WEEK 10 WEEK 11 WEEK 12 WEEK 13 WEEK 14 WEEK 15 WEEK 16 WEEK 17 WEEK 18 WEEK 19 WEEK 20 WEEK 21 WEEK 22 WEEK 23 WEEK 24 WEEK 26

Description
INSPECTION TAG WEEK 1 WEEK 2 Tag
Use this Inspection tag to clearly show the status of equipment or its last recorded inspection.
Includes a 3/8-inch metal grommet at top center to prevent pull-off up to 50-lb strength.
Tear-resistant plastic is a great choice for harsh environments.
This tag is durable against moisture, chemicals and abrasions, but the surface is easy to write on.
Manufactured with square corners.
Available in economical multi-packs.
ComplianceSigns safety tags are made in the USA.
Click Add To Cart to order this Inspection tag today.
Former SafetyCal part #: S2168