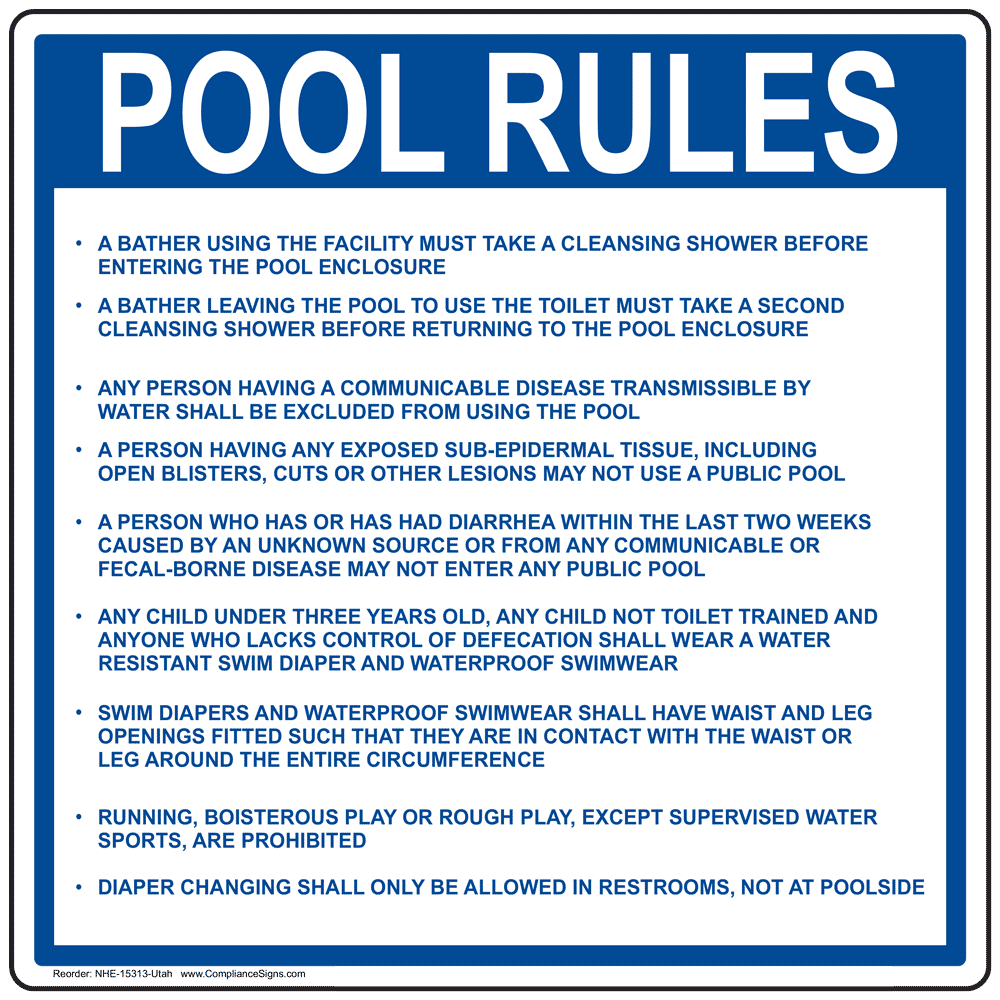 Estimated shipping date:
...loading
Product details
---
Mounting option
Surface Mount
SKU
NHE-15313-Utah
CS513702
Wording
POOL RULES A BATHER USING THE FACILITY MUST TAKE A CLEANSING SHOWER BEFORE ENTERING THE POOL ENCLOSURE A BATHER LEAVING THE POOL TO USE THE TOILET MUST TAKE A SECOND CLEANSING SHOWER BEFORE RETURNING TO THE POOL ENCLOSURE ANY PERSON HAVING A COMMUNICABLE DISEASE TRANSMISSIBLE BY WATER SHALL BE EXCLUDED FROM USING THE POOL A PERSON HAVING ANY EXPOSED SUB-EPIDERMAL TISSUE, INCLUDING OPEN BLISTERS, CUTS OR OTHER LESIONS MAY NOT USE A PUBLIC POOL A PERSON WHO HAS OR HAS HAD DIARRHEA WITHIN THE LAST TWO WEEKS CAUSED BY AN UNKNOWN SOURCE OR FROM ANY COMMUNICABLE OR FECAL-BORNE DISEASE MAY NOT ENTER ANY PUBLIC POOL ANY CHILD UNDER THREE YEARS OLD, ANY CHILD NOT TOILET TRAINED AND ANYONE WHO LACKS CONTROL OF DEFECATION SHALL WEAR A WATER RESISTANT SWIM DIAPER AND WATERPROOF SWIMWEAR SWIM DIAPERS AND WATERPROOF SWIMWEAR SHALL HAVE WAIST AND LEG OPENINGS FITTED SUCH THAT THEY ARE IN CONTACT WITH THE WAIST OR LEG AROUND THE ENTIRE CIRCUMFERENCE RUNNING, BOISTEROUS PLAY OR ROUGH PLAY, EXCEPT SUPERVISED WATER SPORTS, ARE PROHIBITED DIAPER CHANGING SHALL ONLY BE ALLOWED IN RESTROOMS, NOT AT POOLSIDE
Description
This easy-to-read Utah POOL RULES sign provides state-specific rules for anyone using your pool or spa.
• Surface-mount water safety sign is directly printed in color on a white substrate.

• Wording and text size meet state-specific requirements for Utah POOL RULES water safety signage (2-inch heading and 0.5-inch text) .

• This pool / spa safety sign is UV, chemical, abrasion and moisture resistant.

• Rugged, enamel-coated aluminum water safety sign has 0.20-in. mounting holes in each corner.

• Utah pool / spa rules sign is printed with UV-stable ink and are suitable for indoor or outdoor use at service temperatures from -40 F to +180 F.
Order your Utah POOL RULES water safety signs today.
Customers who bought this also consider
---