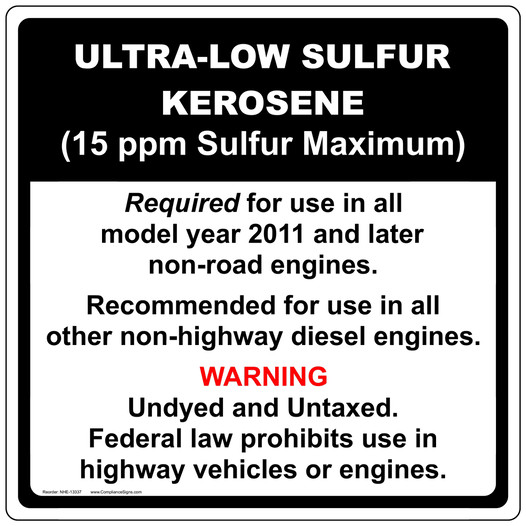 Ultra-Low Sulfur Kerosene 15 Ppm Sulfur Max Label Diesel
Product details
---
Mounting option
Self-Adhesive
Wording
ULTRA-LOW SULFUR KEROSENE (15 ppm Sulfur Maximum) Required for use in all model year 2011 and later non-road engines. Recommended for use in all other non-highway diesel engines. WARNING Undyed and Untaxed. Federal law prohibits use in highway vehicles or engines.
Description
This ULTRA-LOW SULFUR KEROSENE (15 ppm Sulfur Maximum) warning label meets Federal EPA requirements for identifying fuel pumps that dispense nonroad, locomotive or marine (NRLM) diesel fuel and heating oil.
• Includes permanent adhesive with easy-to-remove backing.
• Wording and type size meet EPA Title 40, Part 80 requirements.
• Features a 3.0 mil laminate coating that is UV, chemical, abrasion and moisture resistant.
• Printed with UV-stable ink suitable for indoor or outdoor use at temperatures from -40 to +180 F.
• Perfect for curved applications or anywhere a traditional sign could be difficult to mount - just peel and stick.
• For more details on construction, click on the Product Data Bulletins tab above and select Self-Adhesive Labels & Stickers.