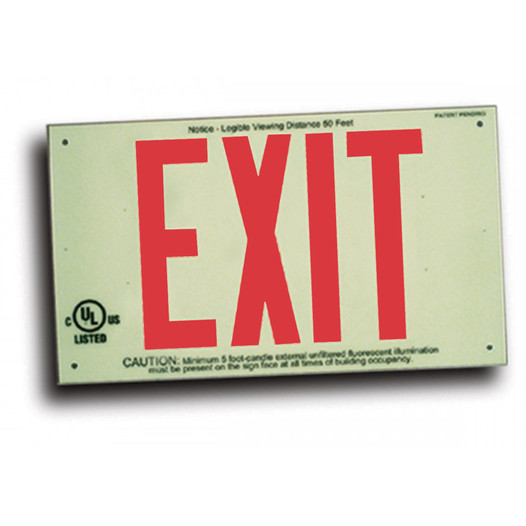 Ultra-Glow Plate-Style Exit Sign
Product details
---
Construction
LED / Illuminated
Mounting option
Surface Mount
Wording
Ultra-Glow EXIT Plate Sign
Description
Plate-Style Ultra-Glow EXIT Sign with Standard or Reflective Letters
This 7.5 x 13-inch wall-mount EXIT sign has colored letters on a glow-in-the-dark background. It glows in the dark and is viewable up to 50 feet* to guide people safely to exits when the power is out.
Colored letters on Glow-in-the- Dark background
Choose standard or high-visibility reflective lettering in your choice of 2 colors
Durable, impact-resistant plastic plate has mounting holes at corners
Stick-on directional arrows included
Wall mount only
Sign size: 7 1/2 in. x 13 in.
Letter size: 6 in. high with 13/16 in. stroke
UL924 listed
Ultra-Glow™ meets the following standards:
NFPA Life Safety Code 101 and OSHA requirements
Current Building Codes: IBC, ICBO, BOCA and SBCCI, NFPA 5000
ICC ES report #ER-6040
California State Fire Marshall listing #6200-1617; 100
City of Los Angeles Research Report: RR 25531 (CSI #16530)
Ontario Building Materials Evaluation Commission
Authorization Report BMEC # 03-12-291
Click Add to Cart to order this glow-in-the-dark EXIT sign today.
*Note: Light, equivalent to 54 LUX* (5 foot-candles) lighting, must shine onto the sign face at all times during building occupancy (to meet the photoluminescent standards). Use a light meter to check this requirement.