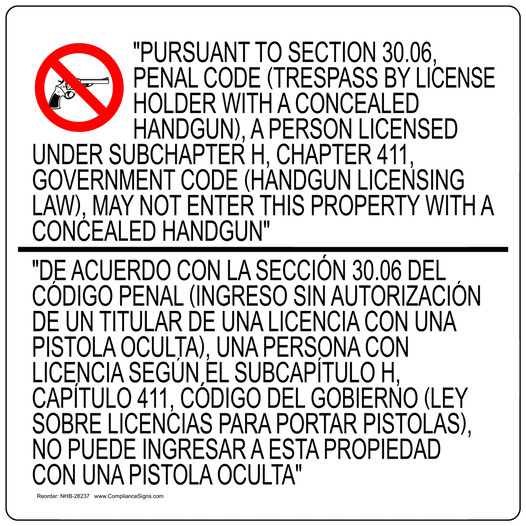 Texas 30.06 Concealed Carry Sign -TX
Product details
---
Mounting option
Surface Mount
Wording
'PURSUANT TO SECTION 30.06, PENAL CODE (TRESPASS BY LICENSE HOLDER WITH A CONCEALED HANDGUN), A PERSON LICENSED UNDER SUBCHAPTER H, CHAPTER 411, GOVERNMENT CODE (HANDGUN LICENSING LAW), MAY NOT ENTER THIS PROPERTY WITH A CONCEALED HANDGUN' - 'DE ACUERDO CON LA SECCIÓN 30.06 DEL CÓDIGO PENAL (INGRESO SIN AUTORIZACIÓN DE UN TITULAR DE UNA LICENCIA CON UNA PISTOLA OCULTA), UNA PERSONA CON LICENCIA SEGÚN EL SUBCAPÍTULO H, CAPÍTULO 411, CÓDIGO DEL GOBIERNO (LEY SOBRE LICENCIAS PARA PORTAR PISTOLAS), NO PUEDE INGRESAR A ESTA PROPIEDAD CON UNA PISTOLA OCULTA'
Description
Texas Concealed Carry Handguns Prohibited Sign for Penal Code 30.06
This Texas concealed carry handgun sign meets Texas Penal Code 30.06 sign requirements for open carry laws. Use this sign to prohibit concealed carry on a premises where open carry is allowed. Learn about regulations regarding this sign in our FAQ on Texas 30.06 and 30.07 Gun Signs (pdf).
Surface-mount Texas Penal Code 30.06 handgun sign is printed with English and Spanish text on a white background.
Available in 2 sizes. Both meet Section 30.07 requirements for 1-inch lettering and required English text. (NOTE: The code requires Spanish translation, but does not specify the exact Spanish text. Review the code here.)
Texas handgun sign or label is UV, chemical, abrasion and moisture resistant.
Substrate choices: (Select above)

- Sturdy enamel-coated aluminum
- Semi-rigid PVC plastic
- Flexible white vinyl label stock with permanent adhesive
- Flexible front-adhesive vinyl label in white or clear

Aluminum and PVC plastic signs have 0.20-in. mounting holes in each corner.
Labels have permanent adhesive with peel-off backing - just peel and stick.
Clear, front-adhesive labels mount INSIDE glass doors or windows for viewing from the opposite side.
All are printed with UV-stable ink and suitable for indoor or outdoor use at service temperatures from -40 to +180 F.
Click Add To Cart to order this bilingual Texas 30.06 handgun signs today.
NOTE: To prohibit both concealed and openly carried handguns, post this sign and our NHB-28238 - Texas 30.07 sign.