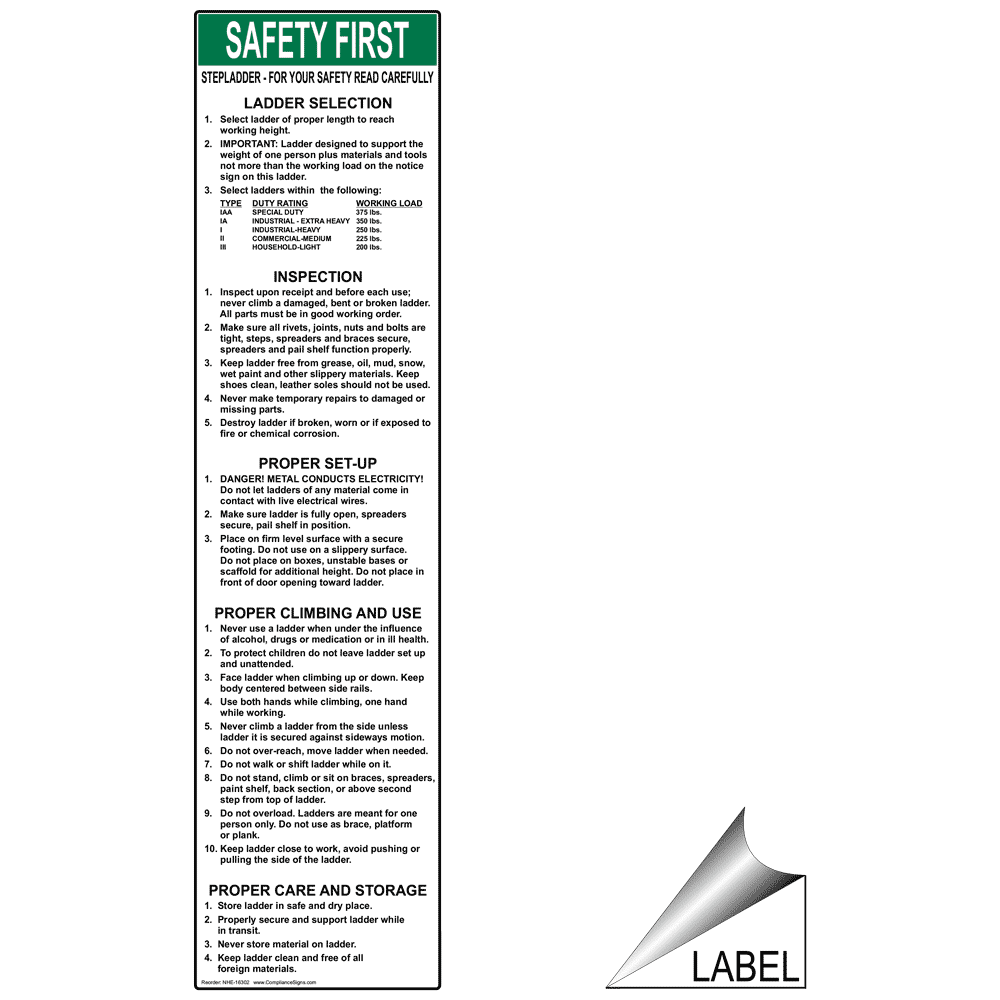 Step Ladder Safety Label Industrial Notices
Estimated shipping date:
...loading
Product details
---
Mounting option
Self-Adhesive
Wording
SAFETY FIRST STEP LADDER - FOR YOUR SAFETY READ CAREFULLY LADDER SELECTION 1. Select ladder of proper length to reach working height. 2. IMPORTANT: Ladder designed to support the weight of one person plus materials and tools not more than the working load on the notice sign on this ladder. 3. Select ladders within the following: TYPE DUTY RATING WORKING LOAD IAA SPECIAL DUTY 375 lbs. IA INDUSTRIAL - EXTRA HEAVY 350 lbs. I INDUSTRIAL-HEAVY 250 lbs. II COMMERCIAL-MEDIUM 225 lbs. III HOUSEHOLD-LIGHT 200 lbs. INSPECTION 1. Inspect upon receipt and before each use; never climb a damaged, bent or broken ladder. All parts must be in good working order. 2. Make sure all rivets, joints, nuts and bolts are tight, steps, spreaders and braces secure, spreaders and pail shelf function properly. 3. Keep ladder free from grease, oil, mud, snow, wet paint and other slippery materials. Keep shoes clean, leather soles should not be used. 4. Never make temporary repairs to damaged or missing parts. 5. Destroy ladder if broken, worn or if exposed to fire or chemical corrosion. PROPER SET-UP 1. DANGER! METAL CONDUCTS ELECTRICITY! Do not let ladders of any material come in contact with live electrical wires. 2. Make sure ladder is fully open, spreaders secure, pail shelf in position. 3. Place on firm level surface with a secure footing. Do not use on a slippery surface. Do not place on boxes, unstable bases or scaffold for additional height. Do not place in front of door opening toward ladder. PROPER CLIMBING AND USE 1. Never use a ladder when under the influence of alcohol, drugs or medication or in ill health 2. To protect children do not leave ladder set up and unattended. 3. Face ladder when climbing up or down. Keep body centered between side rails. 4. Use both hands while climbing, one hand while working 5. Never climb a ladder from the side unless ladder it is secured against sideways motion. 6. Do not over-reach, move ladder when needed. 7. Do not walk or shift ladder while on it. 8. Do not stand, climb or sit on braces, spreaders, paint shelf, back section, or above second step from top of ladder. 9. Do not overload. Ladders are meant for one person only. Do not use as brace, platform or plank. 10. Keep ladder close to work, avoid pushing or pulling the side of the ladder. PROPER CARE AND STORAGE 1. Store ladder in safe and dry place. 2. Properly secure and support ladder while in transit. 3. Never store material on ladder. 4. Keep ladder clean and free of all foreign materials.
Description
This white SAFETY FIRST self-adhesive label will clearly identify safe operational procedures when using ladders.
• Peel-and-stick, self-adhesive label
• Label is UV, chemical, abrasion and moisture resistant
• Flexible vinyl label stock has permanent adhesive
• All labels are printed with UV-stable ink and are suitable for indoor or outdoor use at service temperatures from -40 F to +180 F.
• For more detailed information on construction, please select the Product Data Bulletins tab above.
Customers who bought this also consider
---