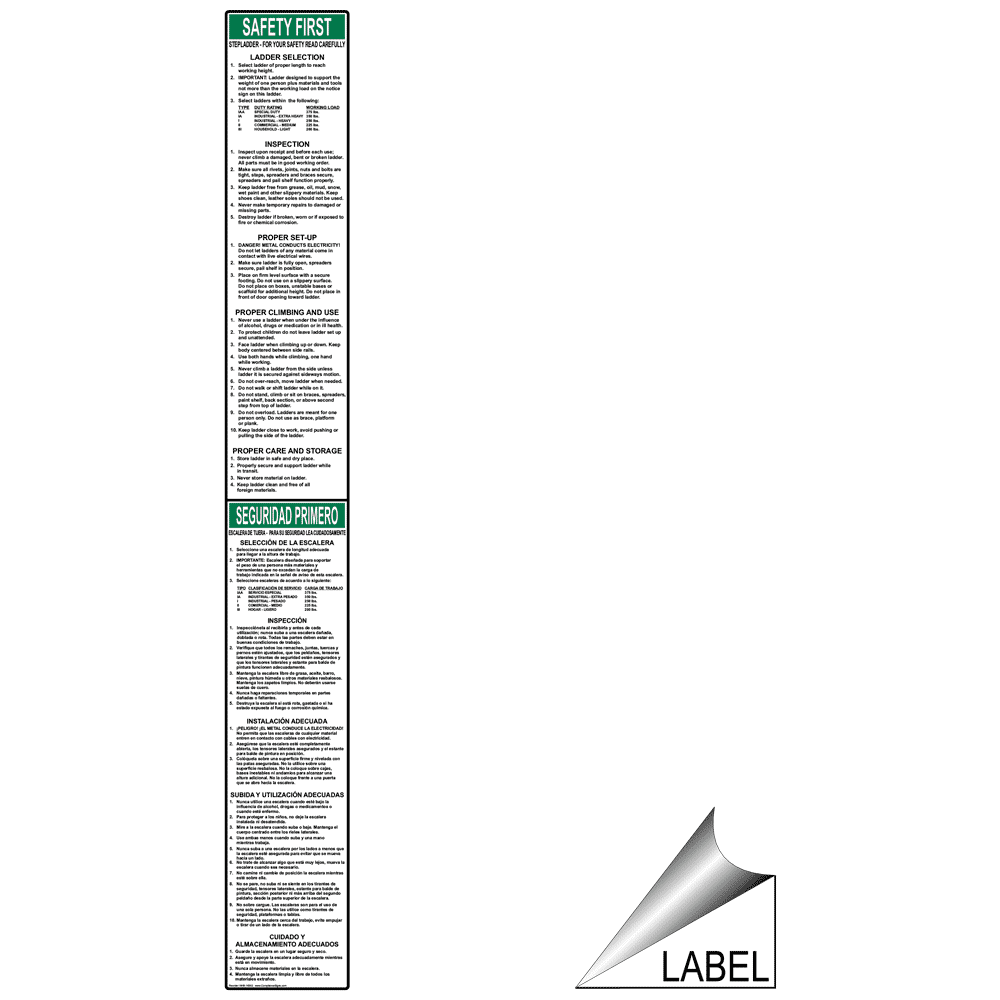 Step Ladder Safety Bilingual Label Industrial Notices
Estimated shipping date:
...loading
Product details
---
Mounting option
Self-Adhesive
Wording
SAFETY FIRST STEP LADDER - FOR YOUR SAFETY READ CAREFULLY LADDER SELECTION 1. Select ladder of proper length to reach working height. 2. IMPORTANT: Ladder designed to support the weight of one person plus materials and tools not more than the working load on the notice sign on this ladder. 3. Select ladders within the following: TYPE DUTY RATING WORKING LOAD IAA SPECIAL DUTY 375 lbs. IA INDUSTRIAL - EXTRA HEAVY 350 lbs. I INDUSTRIAL-HEAVY 250 lbs. II COMMERCIAL-MEDIUM 225 lbs. III HOUSEHOLD-LIGHT 200 lbs. INSPECTION 1. Inspect upon receipt and before each use; never climb a damaged, bent or broken ladder. All parts must be in good working order. 2. Make sure all rivets, joints, nuts and bolts are tight, steps, spreaders and braces secure, spreaders and pail shelf function properly. 3. Keep ladder free from grease, oil, mud, snow, wet paint and other slippery materials. Keep shoes clean, leather soles should not be used. 4. Never make temporary repairs to damaged or missing parts. 5. Destroy ladder if broken, worn or if exposed to fire or chemical corrosion. PROPER SET-UP 1. DANGER! METAL CONDUCTS ELECTRICITY! Do not let ladders of any material come in contact with live electrical wires. 2. Make sure ladder is fully open, spreaders secure, pail shelf in position. 3. Place on firm level surface with a secure footing. Do not use on a slippery surface. Do not place on boxes, unstable bases or scaffold for additional height. Do not place in front of door opening toward ladder. PROPER CLIMBING AND USE 1. Never use a ladder when under the influence of alcohol, drugs or medication or in ill health 2. To protect children do not leave ladder set up and unattended. 3. Face ladder when climbing up or down. Keep body centered between side rails. 4. Use both hands while climbing, one hand while working 5. Never climb a ladder from the side unless ladder it is secured against sideways motion. 6. Do not over-reach, move ladder when needed. 7. Do not walk or shift ladder while on it. 8. Do not stand, climb or sit on braces, spreaders, paint shelf, back section, or above second step from top of ladder. 9. Do not overload. Ladders are meant for one person only. Do not use as brace, platform or plank. 10. Keep ladder close to work, avoid pushing or pulling the side of the ladder. PROPER CARE AND STORAGE 1. Store ladder in safe and dry place. 2. Properly secure and support ladder while in transit. 3. Never store material on ladder. 4. Keep ladder clean and free of all foreign materials. - LA SEGURIDAD ES LO PRIMERO ESCALERA DE TIJERA - PARA SU SEGURIDAD LEA CUIDADOSAMENTE SELECCIÓN DE LA ESCALERA 1. Seleccione una escalera de longitud adecuada para llegar a la altura de trabajo. 2. IMPORTANTE: Escalera diseñada para soportar el peso de una persona más materiales y herramientas que no excedan la carga de trabajo indicada en la señal de aviso de esta escalera. 3. Seleccione escaleras de acuerdo a lo siguiente: TIPO CLASIFICACIÓN DE SERVICIO CARGA DE TRABAJO IAA SERVICIO ESPECIAL 375 lb IA INDUSTRIAL - EXTRA PESADO 350 lb I INDUSTRIAL - PESADO 250 lb II COMERCIAL - MEDIO 225 lb III HOGAR - LIGERO 200 lb INSPECCIÓN 1. Inspecciónela al recibirla y antes de cada utilización; nunca suba a una escalera dañada, doblada o rota. Todas las partes deben estar en buenas condiciones de trabajo. 2. Verifique que todos los remaches, juntas, tuercas y pernos estén ajustados, que los peldaños, tensores laterales y tirantes de seguridad estén asegurados y que los tensores laterales y estante para balde de pintura funcionen adecuadamente. 3. Mantenga la escalera libre de grasa, aceite, barro, nieve, pintura húmeda u otros materiales resbalosos. Mantenga los zapatos limpios. No deberán usarse suelas de cuero. 4. Nunca haga reparaciones temporales en partes dañadas o faltantes. 5. Destruya la escalera si está rota, gastada o si ha estado expuesta al fuego o corrosión química. INSTALACIÓN ADECUADA 1. ¡PELIGRO! ¡EL METAL CONDUCE LA ELECTRICIDAD! No permita que las escaleras de cualquier material entren en contacto con cables con electricidad. 2. Asegúrese que la escalera esté completamente abierta, los tensores laterales asegurados y el estante para balde de pintura en posición. 3. Colóquela sobre una superficie firme y nivelada con las patas aseguradas. No la utilice sobre una superficie resbalosa. No la coloque sobre cajas, bases inestables ni andamios para alcanzar una altura adicional. No la coloque frente a una puerta que se abre hacia la escalera. SUBIDA Y UTILIZACIÓN ADECUADAS 1. Nunca utilice una escalera cuando esté bajo la influencia de alcohol, drogas o medicamentos o cuando esté enfermo 2. Para proteger a los niños, no deje la escalera instalada ni desatendida. 3. Mire a la escalera cuando suba o baje. Mantenga el cuerpo centrado entre los rieles laterales. 4. Use ambas manos cuando suba y una mano mientras trabaja 5. Nunca suba a una escalera por los lados a menos que la escalera esté asegurada para evitar que se mueva hacia un lado. 6. No trate de alcanzar algo que está muy lejos, mueva la escalera cuando sea necesario. 7. No camine ni cambie de posición la escalera mientras esté sobre ella 8. No se pare, no suba ni se siente en los tirantes de seguridad, tensores laterales, estante para balde de pintura, sección posterior ni más arriba del segundo peldaño desde la parte superior de la escalera. 9. No sobre cargue. Las escaleras son para el uso de una sola persona. No las utilice como tirantes de seguridad, plataformas o tablas. 10. Mantenga la escalera cerca del trabajo, evite empujar o tirar de un lado de la escalera. CUIDADO Y ALMACENAMIENTO ADECUADOS 1. Guarde la escalera en un lugar seguro y seco. 2. Asegure y apoye la escalera adecuadamente mientras está en movimiento. 3. Nunca almacene materiales en la escalera. 4. Mantenga la escalera limpia y libre de todos los materiales extraños.
Description
This English + Spanish bilingual self-adhesive label will clearly identify ladder and scaffold hazards.
• Peel-and-stick, self-adhesive label
• White label is UV, chemical, abrasion and moisture resistant
• Flexible vinyl label stock has permanent adhesive
• All labels are printed with UV-stable ink and are suitable for indoor or outdoor use at service temperatures from -40 F to +180 F.
• For more detailed information on construction, please select the Product Data Bulletins tab above.
Customers who bought this also consider
---