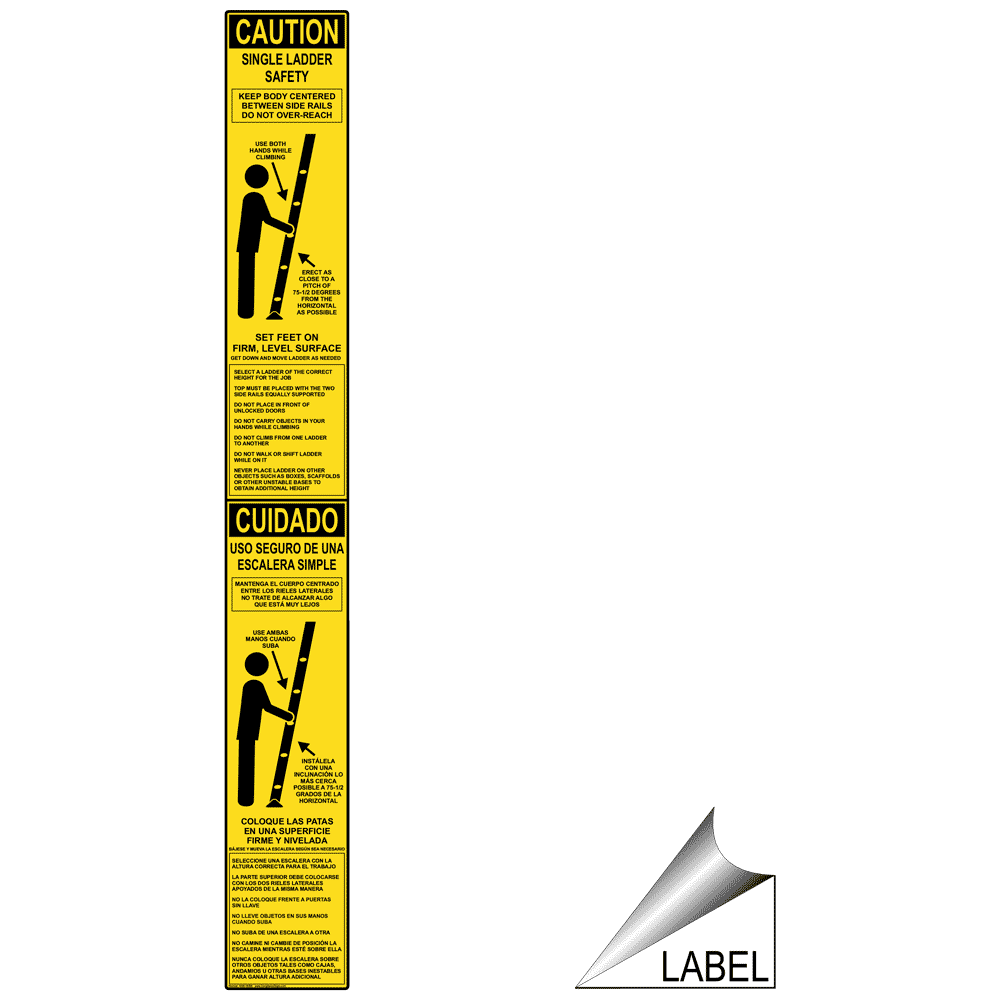 Single Ladder Safety Bilingual Label Industrial Notices
Estimated shipping date:
...loading
Product details
---
Mounting option
Self-Adhesive
Wording
CAUTION SINGLE LADDER SAFETY KEEP BODY CENTERED BETWEEN SIDE RAILS DO NOT OVER-REACH USE BOTH HANDS WHILE CLIMBING ERECT AS CLOSE TO A PITCH OF 75-1/2 DEGREES FROM THE HORIZONTAL AS POSSIBLE SET FEET ON FIRM, LEVEL SURFACE GET DOWN AND MOVE LADDER AS NEEDED SELECT A LADDER OF THE CORRECT HEIGHT FOR THE JOB TOP MUST BE PLACED WITH THE TWO SIDE RAILS EQUALLY SUPPORTED DO NOT PLACE IN FRONT OF UNLOCKED DOORS DO NOT CARRY OBJECTS IN YOUR HANDS WHILE CLIMBING DO NOT CLIMB FROM ONE LADDER TO ANOTHER DO NOT WALK OR SHIFT LADDER WHILE ON IT NEVER PLACE LADDER ON OTHER OBJECTS SUCH AS BOXES, SCAFFOLDS OR OTHER UNSTABLE BASES TO OBTAIN ADDITIONAL HEIGHT. - CUIDADO USO SEGURO DE UNA ESCALERA SIMPLE MANTENGA EL CUERPO CENTRADO ENTRE LOS RIELES LATERALES NO TRATE DE ALCANZAR ALGO QUE ESTÁ MUY LEJOS USE AMBAS MANOS CUANDO SUBA INSTÁLELA CON UNA INCLINACIÓN LO MÁS CERCA POSIBLE A 75-1/2 GRADOS DE LA HORIZONTAL COLOQUE LAS PATAS EN UNA SUPERFICIE FIRME Y NIVELADA BÁJESE Y MUEVA LA ESCALERA SEGÚN SEA NECESARIO SELECCIONE UNA ESCALERA CON LA ALTURA CORRECTA PARA EL TRABAJO LA PARTE SUPERIOR DEBE COLOCARSE CON LOS DOS RIELES LATERALES APOYADOS DE LA MISMA MANERA NO LA COLOQUE FRENTE A PUERTAS SIN LLAVE NO LLEVE OBJETOS EN SUS MANOS CUANDO SUBA NO SUBA DE UNA ESCALERA A OTRA NO CAMINE NI CAMBIE DE POSICIÓN LA ESCALERA MIENTRAS ESTÉ SOBRE ELLA NUNCA COLOQUE LA ESCALERA SOBRE OTROS OBJETOS TALES COMO CAJAS, ANDAMIOS U OTRAS BASES INESTABLES PARA GANAR ALTURA ADICIONAL
Description
This Yellow self-adhesive label will clearly identify ladder and scaffold hazards.
• Peel-and-stick, self-adhesive label
• Label is UV, chemical, abrasion and moisture resistant
• Flexible vinyl label stock has permanent adhesive
• All labels are printed with UV-stable ink and are suitable for indoor or outdoor use at service temperatures from -40 F to +180 F.
• For more detailed information on construction, please select the Product Data Bulletins tab above."
Customers who bought this also consider
---