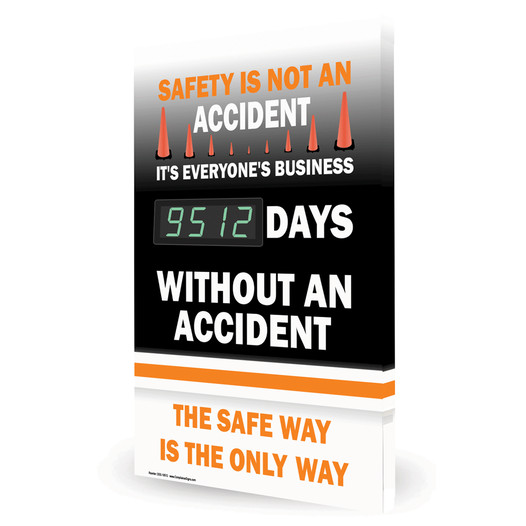 Safety Is Not An Accident It's Everyone's Business Digital Safety Scoreboard
Product details
---
Construction
Digital Scoreboard
SKU
CS825877
CS825877
DSE-19506
Wording
SAFETY IS NOT AN ACCIDENT IT'S EVERYONE'S BUSINESS __ DAYS WITHOUT AN ACCIDENT THE SAFE WAY IS THE ONLY WAY
Description
SAFETY IS NOT AN ACCIDENT IT'S EVERYONE'S BUSINESS Digital Safety Scoreboard
Automatically track safe days in your workplace with this electronic safety scoreboard. This eye-catching scoreboard is the innovative way to keep workplace safety top-of-mind with employees and visitors. Install it in any common area - indoors or out - where it can be seen every day.
Scoreboard Features:
Counts safe days - without an accident - in green. In the event of an injury, you can set the display to red until meeting your new goal.
The day counter advances daily, and can be set to change at any time of day.
Track a 7-day week or just workdays.
Display can show safe days only, or flash between safe days, date and clock. All information is stored if a power failure occurs.*
Tamper-proof operation is managed only through the easy-to-use handheld remote, which can control up to 5 displays.
Can be used indoors or out, including wet or damp locations.**
Download the Scoreboard Set Up sheet for operation details.
Scoreboard Construction:
28x20x1-in. scoreboard is printed on lightweight, sturdy aluminum.
Low-profile display has 1-in. frameless edge with wraparound design that stands out from the wall.
Bold message and colorful graphics are protected by a clear UV coating.
Hang board by hidden mounting brackets on back.
Digital display meets IP65 test for dust and water resistance.
Four-digit, bright LED numbers are 2.5 inches high for easy reading from a distance.
Operates on 110/120 VAC with 8-ft power cord and AC adapter (included).
Click Add To Cart above to order this attractive white digital safety scoreboard today.
*LED indicator notifies when a hold or power failure has occurred. **Scoreboards exposed to wet environments should be plugged into a GFI outlet with a waterproof protective receptacle cover. Mount scoreboard under protective overhead or covered area.