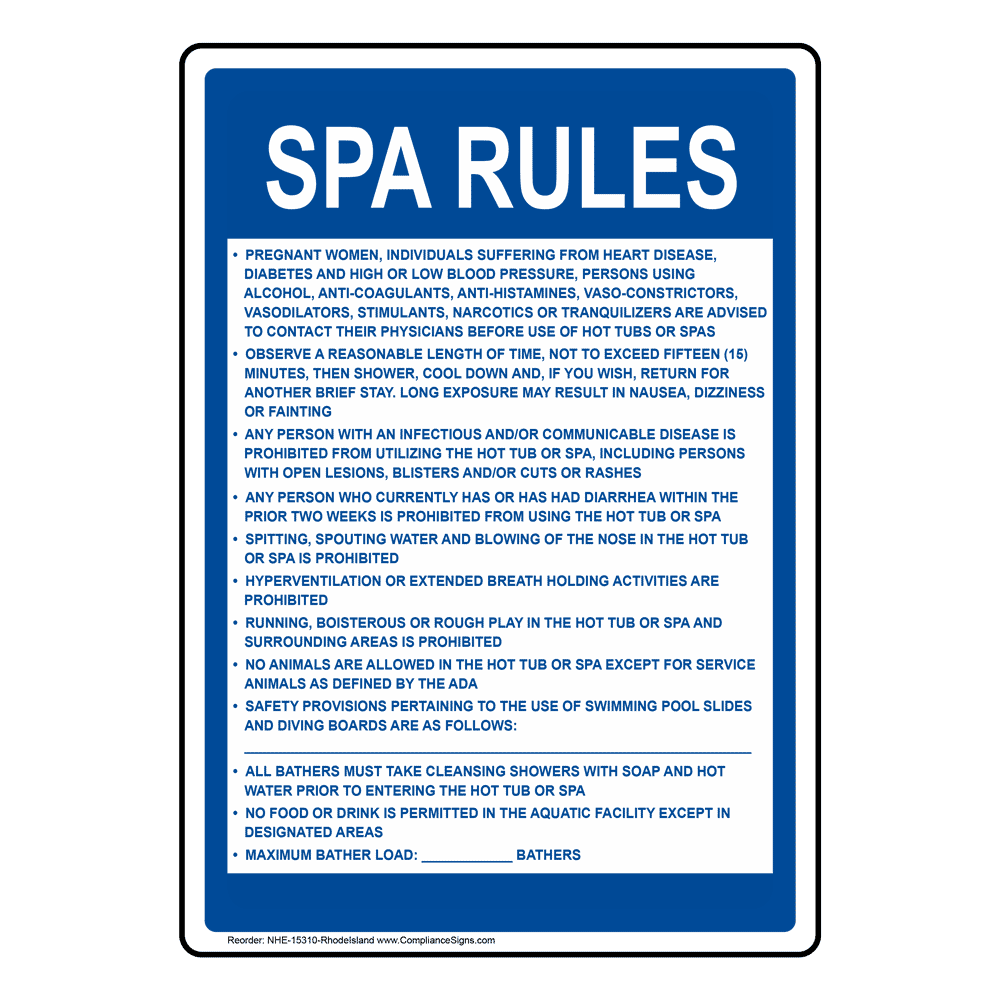 Rhode Island Spa Rules Sign
Estimated shipping date:
...loading
Product details
---
Mounting option
Surface Mount
SKU
NHE-15310-RhodeIsland
CS727370
Wording
SPA RULES PREGNANT WOMEN, INDIVIDUALS SUFFERING FROM HEART DISEASE, DIABETES AND HIGH OR LOW BLOOD PRESSURE, PERSONS USING ALCOHOL, ANTI-COAGULANTS, ANTI-HISTAMINES, VASO-CONSTRICTORS, VASODILATORS, STIMULANTS, NARCOTICS OR TRANQUILIZERS ARE ADVISED TO CONTACT THEIR PHYSICIANS BEFORE USE OF HOT TUBS OR SPAS OBSERVE A REASONABLE LENGTH OF TIME, NOT TO EXCEED FIFTEEN (15) MINUTES, THEN SHOWER, COOL DOWN AND, IF YOU WISH, RETURN FOR ANOTHER BRIEF STAY. LONG EXPOSURE MAY RESULT IN NAUSEA, DIZZINESS OR FAINTING ANY PERSON WITH AN INFECTIOUS AND/OR COMMUNICABLE DISEASE IS PROHIBITED FROM UTILIZING THE HOT TUB OR SPA, INCLUDING PERSONS WITH OPEN LESIONS, BLISTERS AND/OR CUTS OR RASHES ANY PERSON WHO CURRENTLY HAS OR HAS HAD DIARRHEA WITHIN THE PRIOR TWO WEEKS IS PROHIBITED FROM USING THE HOT TUB OR SPA SPITTING, SPOUTING WATER AND BLOWING OF THE NOSE IN THE HOT TUB OR SPA IS PROHIBITED HYPERVENTILATION OR EXTENDED BREATH HOLDING ACTIVITIES ARE PROHIBITED RUNNING, BOISTEROUS OR ROUGH PLAY IN THE HOT TUB OR SPA AND SURROUNDING AREAS IS PROHIBITED NO ANIMALS AREA ALLOWED IN THE HOT TUB OR SPA EXCEPT FOR SERVICE ANIMALS AS DEFINED BY THE ADA SAFETY PROVISIONS PERTAINING TO THE USE OF SWIMMING POOL SLIDES AND DIVING BOARDS ARE AS FOLLOWS: ALL BATHERS MUST TAKE CLEANSING SHOWERS WITH SOAP AND HOT WATER PRIOR TO ENTERING THE HOT TUB OR SPA NO FOOD OR DRINK IS PERMITTED IN THE AQUATIC FACILITY EXCEPT IN DESIGNATED AREAS MAXIMUM BATHER LOAD: ____ BATHERS
Description
Rhode Island Spa Rules Sign with Custom Text on Aluminum, Plastic, Magnetic or Label Substrate
Use this easy-to-read Spa / Hot Tub Rules sign to make your Rhode Island spa rules clear to employees and visitors. This US-made sign meets state sign requirements.
Enter your custom bathing load limit in the box above and we'll print it directly on your sign at no extra charge.
Made-to-order sign is UV, chemical, abrasion and moisture resistant for use in a variety of environments.
Substrate choices:

- Enamel-coated 1mm aluminum
- Semi-rigid 1mm PVC plastic
- Flexible vinyl label stock with permanent adhesive
- Heavy duty, flexible magnetic backing that clings to ferrous metals (not stainless steel)
(Select material and size above)

Aluminum and plastic signs have mounting holes in each corner for easy installation.
Labels have self-adhesive backing - just peel and stick.
All are printed with UV-stable ink and are suitable for indoor or outdoor use at service temperatures from -40 to +180 F.
Ships fast from our manufacturing facility.
Click Add To Cart to order this Rhode Island Spa / Hot Tub sign today.
Customers who bought this also consider
---