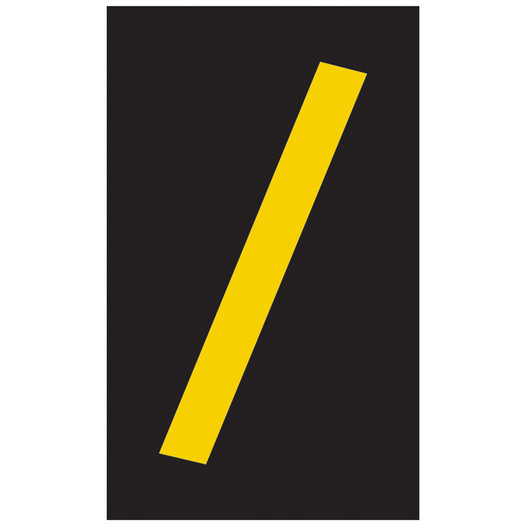 Reflective Yellow-on-Black Slash Symbol Label in 2 Sizes
Product details
---
Description
Slash Symbol (/) Yellow-on-Black Reflective Label in 2 Sizes
Use this adhesive reflective character to help identify industrial equipment, transformers, substations, utility poles and more. Combine characters (sold separately) to create unique codes for easy identification. This bold character printed on engineer-grade reflective material is easy to read, day or night.
Printed on durable 3-mil Engineer-Grade reflective polyester.
Self-adhesive back has a scored liner - just peel and stick.
Label resists UV and moisture for long-lasting service indoors or out.
Available in 2 sizes: 2.875x1.75 in. and 2.375x1.375 in. (Select above)
Sold in packs of 25. (All the same character.)
Other numbers and letters available separately: 0-9, A-Z and special characters: Dot (.), Dash (-) and Slash ( /).
Select a size and click Add To Cart to order this pack of 25 yellow-on-black reflective characters today.