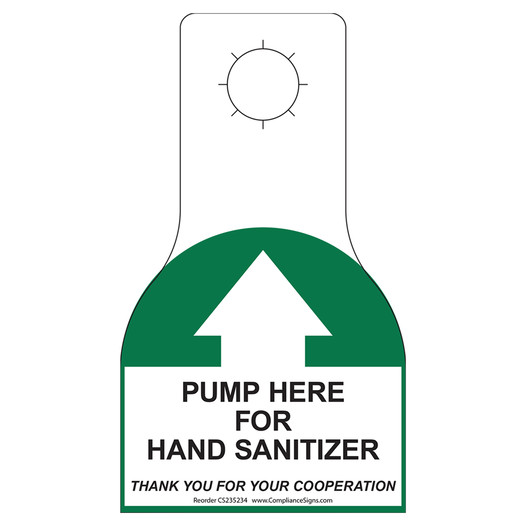 Pump Here For Hand Sanitizer Bottle Hang Tags
Product details
---
Wording
PUMP HERE FOR HAND SANITIZER THANK YOUR FOR YOUR COOPERATION [UP ARROW]
Description
PUMP HERE FOR HAND SANITIZER Hang Tag for Hand Sanitizer Bottles
Use these waterproof Handwashing hang tags on hand sanitizer dispensers to promote frequent use and good hygiene that helps prevent the spread of Coronavirus (COVID-19), flu and other illnesses.
These tags are designed to fit over the neck of sanitizer bottles.
Poly-based cardstock tags are thin, flexible and easy to use.
Containing no wood content, they last longer than paper-based tags.
These waterproof, tear-resistant tags are good for indoor use and temporary outdoor exposure.
Click Add To Cart to order these Wash Hands bottle tags today.