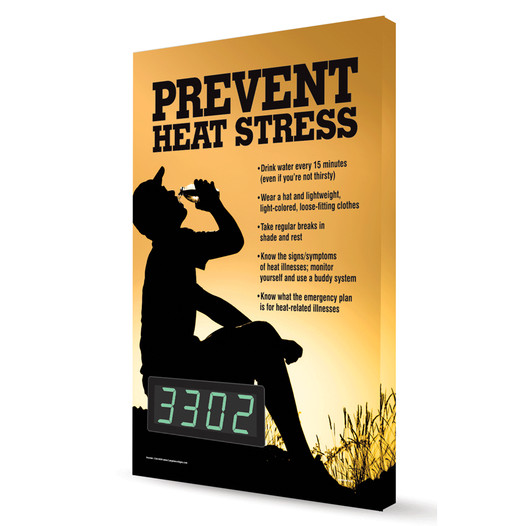 Prevent Heat Stress LED Temperature Display Sign
Product details
---
Mounting option
Surface Mount
Wording
PREVENT HEAT STRESS Drink water every 15 minutes (even if you're not thirsty) Wear a hat and lightweight, light-colored, loose-fitting clothes Take regular breaks in shade and rest Know the signs/symptoms of heat illnesses; monitor yourself and use a buddy system Know what the emergency plan is for heat-related illnesses
Description
PREVENT HEAT STRESS Electronic Temparature Display in 2 Sizes
Monitor the current temperature and alert employees to potential danger with this digital temperature display sign. It shows the temperature in green, but turns red to indicate warning when the temparature reaches a user-defined number.
Can be set for either Celsius or Fahrenheit and displays temperatures from -4 to 158 F or -20 to 70 C.
Use indoors or out, including wet or damp locations.*
Bold message and colorful graphics are protected by a clear UV coating.
Available in 2 sizes (Select above).
Printed on lightweight, sturdy aluminum.
Low-profile display has 1-in. frameless edge with wraparound design that stands out from the wall.
Hangs easily using hidden mounting brackets on the back.
Digital display meets IP65 test for dust and water resistance.
Bright LED numbers are 2.5 inches high for easy reading from a distance.
Operates on 110/120 VAC with 8-ft power cord and AC adapter (included).
Click Add To Cart above to order this attractive PREVENT HEAT STRESS digital temperature monitor today.
*Temperature displays exposed to wet environments should be plugged into a GFI outlet with a waterproof protective receptacle cover. Mount under a protective overhead or covered area.