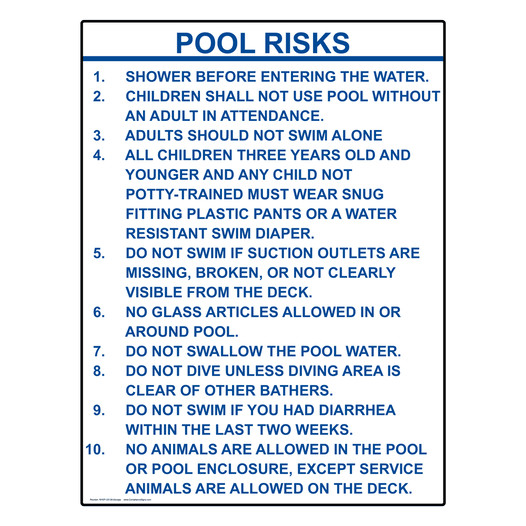 Portrait Georgia POOL RISKS Sign
Product details
---
Mounting option
Surface Mount
SKU
NHEP-33138-Georgia
CS167708
Wording
POOL RISKS 1. SHOWER BEFORE ENTERING THE WATER. 2. CHILDREN SHALL NOT USE POOL WITHOUT AN ADULT IN ATTENDANCE 3. ADULTS SHOULD NOT SWIM ALONE. 4. ALL CHILDREN THREE YEARS OLD AND YOUNGER AND ANY CHILD NOT POTTY-TRAINED MUST WEAR SNUG FITTING PLASTIC PANTS OR A WATER RESISTANT SWIM DIAPER. 5. DO NOT SWIM IF SUCTION OUTLETS ARE MISSING, BROKEN, OR NOT CLEARLY VISIBLE FROM THE DECK. 6. NO GLASS ARTICLES ALLOWED IN OR AROUND POOL. 7. DO NOT SWALLOW THE POOL WATER. 8. DO NOT DIVE UNLESS DIVING AREA IS CLEAR OF OTHER BATHERS. 9 DO NOT SWIM IF YOU HAD DIARRHEA WITHIN THE LAST TWO WEEKS. 10. NO ANIMALS ARE ALLOWED IN THE POOL OR POOL ENCLOSURE, EXCEPT SERVICE ANIMALS ARE ALLOWED ON THE DECK.
Description
Georgia POOL RISKS Warning Sign for Public Swimming Pools
This easy-to-read Georgia swimming pool rules sign provides state-required information for anyone using your swimming pool, and meets state swimming pool sign regulations in Georgia Dept of Public Health Chapter 511-3-5-.18(12)(c).
Wording and 1-inch text height meet state-specific requirements for Georgia swimming pool rules signage.
White, 48 x 36-inch sign is printed on sturdy 80-mil aluminum.
Sign includes 0.20-in. mounting holes at each corner so you can post your sign easily.
Corners have 1/4-in. radius - not sharp points.
Printed with UV-stable ink and suitable for indoor or outdoor use at service temperatures from -40 to +180 F.
This sign is made-to-order and ships fast from the ComplianceSigns manufacturing facility.
Click Add To Cart to order this Georgia swimming pool safety rules sign today.