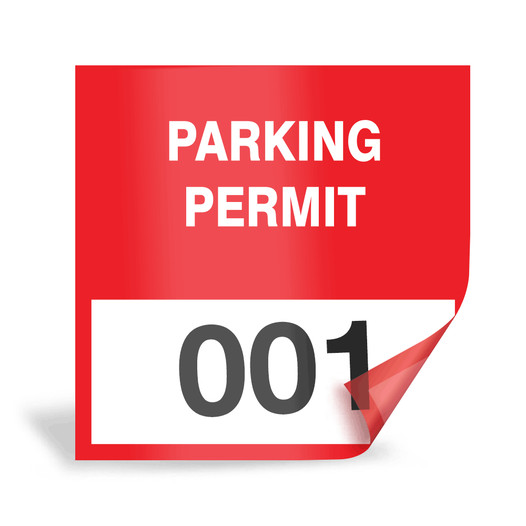 Parking Permit Cling Stickers
Product details
---
Mounting option
Self-Adhesive
SKU
ParkingPermitCling
null
Wording
Parking Permit Cling Stickers
Description
3-inch Square Parking Permit Stickers
Tired of parking tags that get shared, lost or stolen? Our numbered parking permit cling stickers could be the answer for your parking business.
What Are Cling Stickers?
Cling stickers use static to stick to smooth surfaces without needing adhesive. That means no sticky residue – which makes them a great choice for parking permits. ComplianceSigns parking permit clings:
Stick to the inside of glass to be viewed from the outside
Stay firmly in place
3 x 3-inch size is easy to see
Are easy to apply, move and remove
Can be applied to windshield or back window so they're easy to see (dark window tint may limit visibility)
Are available in a variety of colors
Have sequential numbering for easy lot management
Are They Durable?
Yes. ComplianceSigns parking permit clings are manufactured in the USA from top-quality materials for long life:
Printed on 7-mil vinyl film to avoid rips and tears
Resist moisture
Resist scratches
Printed with UV ink to reduce fading
Are applied inside the vehicle, so not affected by rain, ice, snow, car washes, etc.
How Are Cling Parking Permits Better Than Parking Stickers, Tickets or Tags?
Our economical parking permit cling stickers are ideal for long-term and monthly parking situations.
Don't fade or blow away like paper parking passes
Don't leave sticky residue like traditional adhesive stickers
Less likely to be stolen, shared or lost than hanging mirror tags
Don't obstruct driver vision, so don't have to be removed before driving
Can be applied to front or rear window to suit lot management needs
Color and number options differentiate your lot from others
Cling Parking Permit FAQs
1. How are the cling permits numbered?
We have 10 numbering options: 001-099; 100-199; 200-299; 300-399; 400-499; 500-599; 600-699; 700-799; 800-899; 900-999
2. What colors are available?
Choose from 4 popular colors: blue, green, red, yellow
3. How can I use colored cling parking permits to manage my lot?
Colored permits can be used to identify vehicles allowed in specific parking areas, different floors of a garage, different lots or different time periods. For example, use yellow for daytime parking only and blue for 24-hour parking privileges.
4. Are cling parking permits a good solution for apartments and HOAs?
Absolutely! Because clings can be placed on windshields or back windows, they are ideal for pull-in parking locations, and the bright colors show at a glance if a vehicle belongs in a space reserved for residents. Consecutive numbering is easy to assign to residents.