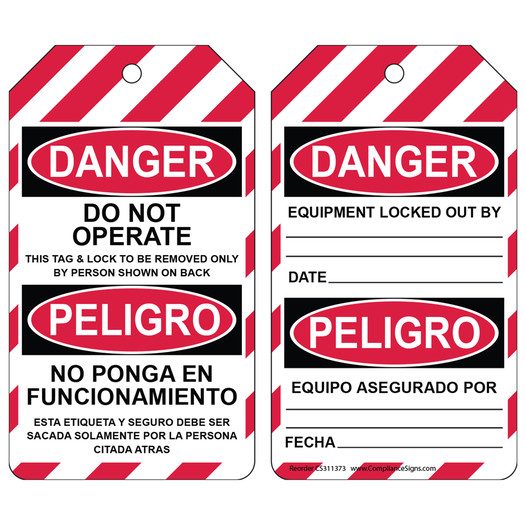 OSHA Do Not Operate English + Spanish Lockout Tag
Product details
---
Wording
DO NOT OPERATE THIS TAG & LOCK TO BE REMOVED ONLY BY PERSON SHOWN ON BACK - NO PONGA EN FUNCIONAMIENTO ESTA ETIQUETA Y SEGURO DEBE SER SACADA SOLAMENTE POR LA PERSONA CITADA ATRAS - EQUIPMENT LOCKED OUT BY DATE:- EQUIPO ASEGURADO POR FECHA:
Description
OSHA DANGER DO NOT OPERATE English + Spanish Lockout Tag
Use this 2-sided OSHA lockout tag to provide warning and information for machines or equipment being serviced or maintained where the unexpected energization, start-up, or release of stored energy could cause harm.
Tag includes English and Spanish text for improved recognition.
This tag complies with OSHA 29 CFR 1910.147, OSHA 29 CFR 1910.145(f) and ANSI Z535.5 standards.
Manufactured with gabled top corners, a 3/8-inch hole and rounded bottom corners.
Material Options:

- Poly Cardstock: Poly-based cardstock tags are thin and flexible. Containing no wood content, they are longer lasting and more durable than common paper cardstock tags. These waterproof, tear-resistant tags are good for indoor use and temporary outdoor exposure. Includes a 3/8-in. plain hole at top center.
- Plastic: Tear-resistant, plastic tags are a great choice for harsh environments. Durable against moisture, chemicals and abrasions, the surface is easy to write on. Includes a 3/8-inch metal grommet at top center to prevent pull-off up to 50-lb strength.
- Laminate: Laminated poly tags are ideal for tough, abusive conditions. They are tear-proof, chemical-resistant and waterproof. The surface is easy to write on, yet scratch-resistant and withstands dirt and grease. Includes a 3/8-inch metal grommet at top center to prevent pull-off up to 50-lb strength.
(Select above)


Available in economical multi-packs costing as little as $0.55/tag for poly cardstock (Select above).
ComplianceSigns safety tags are made in the USA.
Click Add To Cart to order this Lockout Tagout Lockout Tag today.