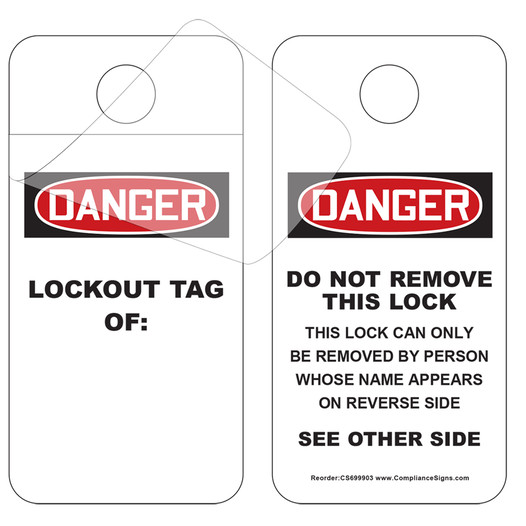 OSHA Danger Do Not Remove Lock Flap Tag with Name
Product details
---
Wording
LOCKOUT TAG OF: DO NOT REMOVE THIS LOCK THIS LOCK CAN ONLY BE REMOVED BY PERSON WHOSE NAME APPEARS ON THE REVERSE SIDE. SEE OTHER SIDE

Description
OSHA Danger LOCKOUT TAG OF: DO NOT REMOVE Flap Tag
Use this 2-sided Lockout tag to provide warning and information about machines or equipment being serviced or maintained where the unexpected energization, start-up, or release of stored energy could cause harm.
This tag complies with OSHA 29 CFR 1910.145(f), OSHA 29 CFR 1910.147 and ANSI Z535.5 standards.
Manufactured with rounded corners and a clear protective flap on one side.
Add your information to the tag with a pen, marker or label. Then lift the flap, peel off the liner and press to seal. The flap resists chemicals and UV to protect your message.
Rigid .050 styrene plastic tag has limited UV resistance for indoor or temporary outdoor use.
Available in economical 10-packs.
ComplianceSigns lockout tags are made in the USA.
Click Add To Cart to order this Lockout Tagout flap tag today.
Former SafetyCal part #: SA47F