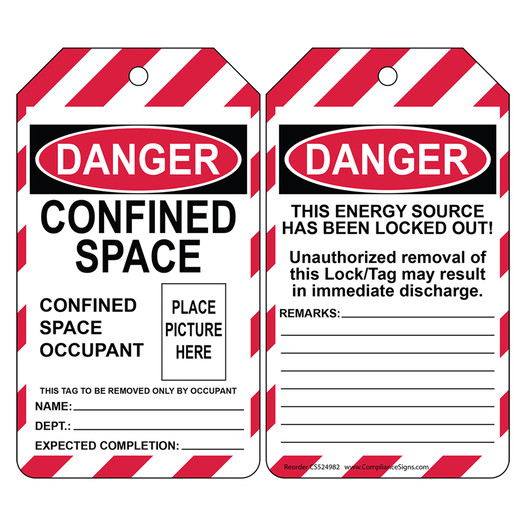 OSHA DANGER Confined Space Occupant (With Photo) Lockout Tag
Product details
---
Wording
CONFINED SPACE CONFINED SPACE OCCUPANT THIS TAG TO BE REMOVED ONLY BY OCCUPANT NAME: DEPT: EXPECTED COMPLETION: PLACE PICTURE HERE THIS ENERGY SOURCE HAS BEEN LOCKED OUT! UNAUTHORIZED REMOVAL OF THIS LOCK/TAG MAY RESULT IN IMMEDIATE DISCHARGE. REMARKS:
Description
OSHA DANGER CONFINED SPACE OCCUPANT (With Photo) Lockout Tag
Use this OSHA DANGER confined space safety tag to identify hazardous conditions or potentially hazardous conditions in small areas. It provides the last recorded inspection of the area and entry permit requirements.
This tag complies with OSHA 29 CFR 1910.145(f), OSHA 29 CFR 1910.146 and ANSI Z535.5 standards.
Manufactured with gabled top corners, a 3/8-inch hole and rounded bottom corners.
Material Options:

- Poly Cardstock: Poly-based cardstock tags are thin and flexible. Containing no wood content, they are longer lasting and more durable than common paper cardstock tags. These waterproof, tear-resistant tags are good for indoor use and temporary outdoor exposure. Includes a 3/8-in. plain hole at top center.
- Plastic: Tear-resistant, plastic tags are a great choice for harsh environments. Durable against moisture, chemicals and abrasions, the surface is easy to write on. Includes a 3/8-inch metal grommet at top center to prevent pull-off up to 50-lb strength.
- Laminate: Laminated poly tags are ideal for tough, abusive conditions. They are tear-proof, chemical-resistant and waterproof. The surface is easy to write on, yet scratch-resistant and withstands dirt and grease. Includes a 3/8-inch metal grommet at top center to prevent pull-off up to 50-lb strength.
(Select above)


Available in economical multi-packs costing as little as $0.55/tag for poly cardstock (Select above).
ComplianceSigns safety tags are made in the USA.
Click Add To Cart to order this Lockout Tagout Lockout Tag today.