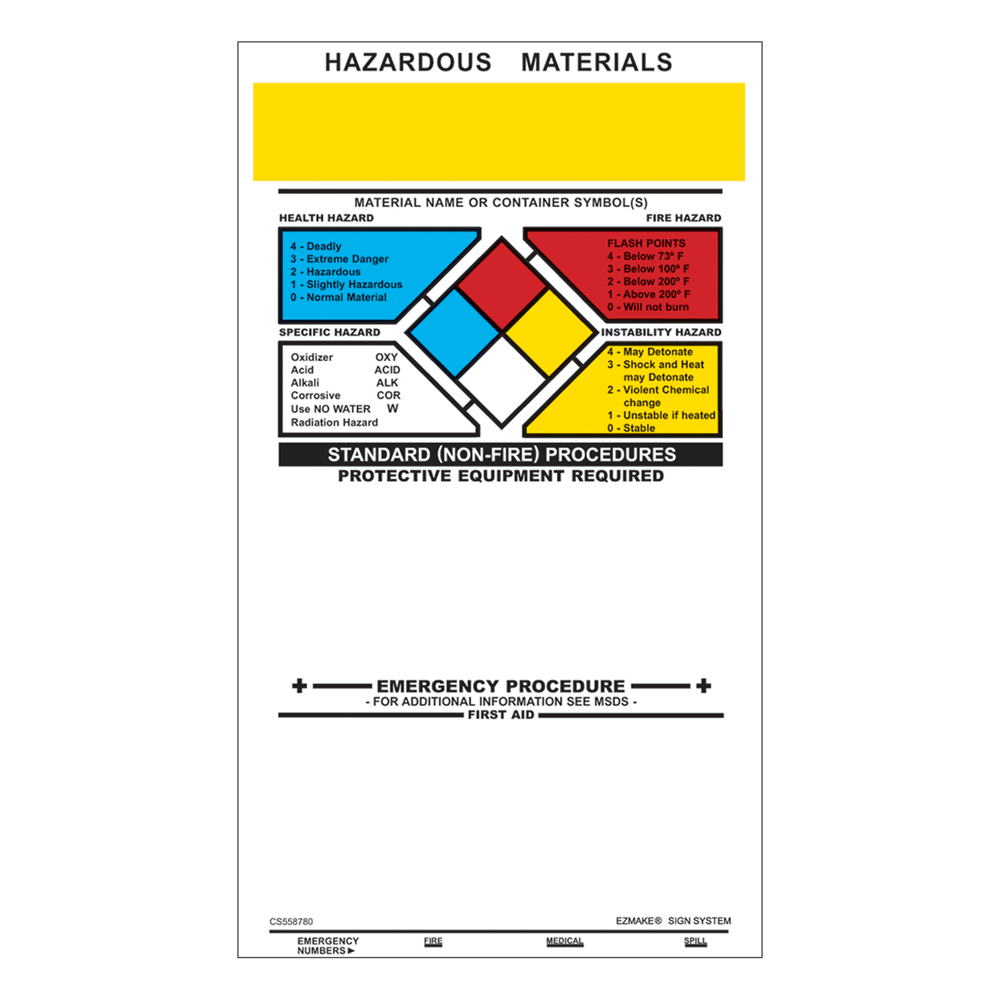 NFPA Style A Standard Procedures EZMake Labels
Estimated shipping date:
...loading
Product details
---
Mounting option
Self-Adhesive
SKU
CS258257
CS258257
HMNFPABTLP, HMNFPABTLV, HMNFPA1.1A
Wording
HAZARDOUS MATERIALS MATERIAL NAME OR CONTAINER SYMBOL(S) APPEARANCE/ODOR: HEALTH HAZARD 4-Deadly 3- Extreme danger 2- Hazardous 1- Slightly hazardous 0- Normal material SPECIFIC HAZARD Use NO WATER W Oxidizer OX Simple Asphyxiant SA Acid ACID Alkali ALK Corrosive COR Radiation Hazard FIRE HAZARD Flash Point 4- Below 73 F 3- Below 100 F 2- Below 200 F 1- Above 200 F 0- Will not burn INSTABILITY 4- May detonate 3- Shock and heat may detonate 2- Violent Chemical change 1- Unstable if heated 0- Stable PERSONAL PROTECTIVE EQUIPMENT REQUIRED TARGET ORGANS EMERGENCY PROCEDURE FOR ADDITIONAL INFORMATION SEE MSDS FIRST AID WARNING: EMERGENCY NUMBERS FIRE MEDICAL SPILL
Description
EZMake® Labels: NFPA Style A
Create your own customized NFPA Style A labels with these EZMake® Labels and our downloadable interactive PDF file. Easily fill out your own secondary basic NFPA container labels.
Print directly from your laser or inkjet printer.
These preprinted three-section NFPA labels provide space to fill in:

- Material name with NFPA hazard codes
- Standard Procedures - Protective Equipment Required
- Emergency Procedures - First Aid


NFPA Labels are available in these sizes and materials (Select above):

- 4x2.5-in. 60-lb. adhesive coated paper stock 25-pack
- 4x2.5-in. 4-mil adhesive vinyl 100-pack
- 5.5x9-in. 4-mil adhesive vinyl 25-pack


These labels have adhesive on the back; just peel and stick.
Click Add To Cart to order these EZMake NFPA labels today.
PDF TEMPLATE: The interactive pdf template will be included in your cart. You will receive an order confirmation email with a link to the pdf file. Just click the link to download the template file and save it to your computer. Then open the file and follow the simple instructions to create your own labels.
Customers who bought this also consider
---