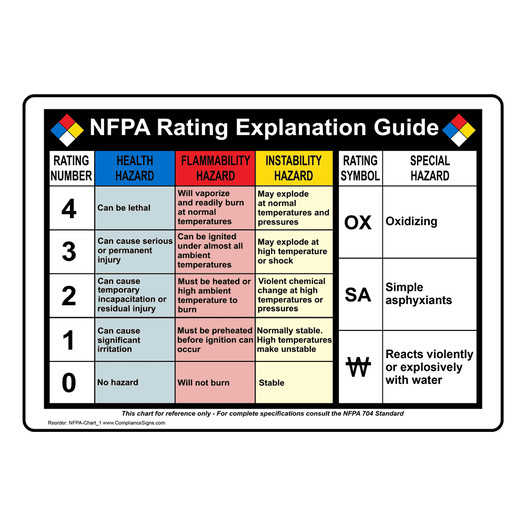 NFPA Rating Guide for Hazmat
Product details
---
Mounting option
Surface Mount
Wording
NFPA Rating Explanation Guide Rating Number Health Hazard Flammability Hazard Instability Hazard Rating Symbol Special Hazard 4 Can be lethal Will vaporize and readily burn at normal temperatures May explode at normal temperatures and pressures 3 Can cause serious or permanent injury Can be ignited under almost all ambient temperature May explode at high temperature or shock 2 Can cause temporary incapacitation or residual injury Must be heated or high ambient temperature to burn Violent chemical change at high temperatures or pressures 1 Can cause significant irritation Must be preheated before ignition can occur Normally stable. High temperatures make unstable 0 No hazard Will not burn Stable OX Oxidizing SA Simple asphyxiants W Reacts violently or explosively with water This chart for reference only - for complete specifications consult the NFPA 704 Standard
Description
NFPA 704 Hazard Diamond Explanation Guide
The National Fire Protection Agency (NFPA), in section 704 of the National Fire Code, specifies a system for identifying hazards associated with various materials. Proper identification of such hazards is essential for anyone who needs to handle such materials, and emergency responders. This surface-mount NFPA Rating Explanation Guide will do the job.
Surface-mount sign is printed in multiple colors and is UV, chemical, abrasion and moisture resistant.
Substrate choices:

- Rigid AL-Plus 3-mm aluminum composite
- Semi-rigid PVC plastic
- Flexible vinyl label stock with permanent adhesive
- Heavy duty, flexible magnetic backing that clings to ferrous metals (not stainless steel)

(Select material and size above)

Aluminum and PVC signs have 0.20-in. mounting holes in each corner.
All are printed with UV-stable ink and are suitable for indoor or outdoor use at service temperatures from -40 F to +180 F.
Click Add To Cart to order this NFPA Hazard Explanation Guide sign today.
Our NEW AL-Plus Aluminum is a rigid and durable aluminum composite comprised of two sheets of aluminum laminated to a thermoplastic core. It is thicker and stiffer than our standard aluminum, and durable for 10 years outdoors. We are confident you will be pleased with AL-Plus aluminum signs.