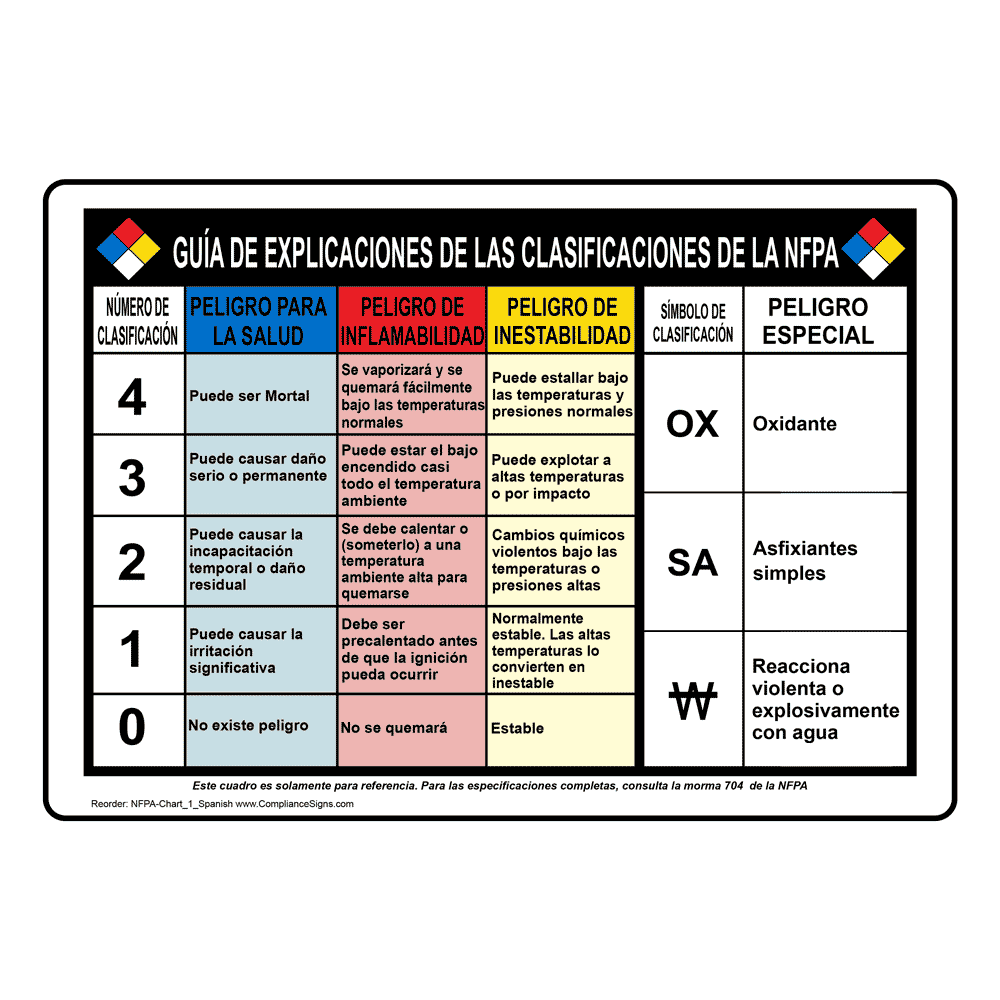 NFPA 704 NFPA Classification Explanation Sign NFPA-Chart-1-Spanish
Estimated shipping date:
...loading
Product details
---
Mounting option
Surface Mount
SKU
NFPA-Chart_1_Spanish
CS869411
Wording
GUÍA DE EXPLICACIONES DE LAS CLASIFICACIONES DE LA NFPA NÜMERO DE CLASIFICACÍON PELIGRO DE INFLAMABILIDAD PELIGRO DE INESTABILIDAD SÍMBOLO DE CLASIFICACÍN PELIGRO ESPECIAL 4 Puede ser mortal Se vaporizará y se quemará fácilmente bajo las temperaturas normales Puede estallar bajo las temperaturas y presiones normales 3 Puede causar daño serio o permanente Puede estar el bajo encendido casi todo el temperatura ambiente Puede explotar a altas temperaturas o por impacto 2 Puede causar la incapacitación temporal o daño residual Se debe calentar o (someterlo) a una temperatura ambiente alta para quemarse Cambios químicos violentos bajo las temperaturas o presiones altas 1 Puede causar la irritación significativa Debe ser precalentado antes de que la ignición pueda ocurrir Normalmente estable. Las altas temperaturas lo convierten en inestable No existe peligro No se quemará Estable OX Oxidante SA Asfixiantes W Reacciona violenta o explosivamente con agua Este cuadro es solamente para referencia. Para las especificaciones completas, consulta la morma 704 de la NFPA
Description
NFPA 704 Hazard Diamond Explanation Guide in Spanish
The National Fire Protection Agency (NFPA), in section 704 of the National Fire Code, specifies a system for identifying hazards associated with various materials. Proper identification of such hazards is essential for anyone who needs to handle such materials, and emergency responders. This surface-mount NFPA Rating Explanation Guide in Spanish will do the job.
Surface-mount sign is printed in multiple colors and is UV, chemical, abrasion and moisture resistant.
Substrate choices:

- Rugged, enamel-coated aluminum
- Semi-rigid PVC plastic
- Flexible vinyl label stock with permanent adhesive
(Choose a tab next to the sign to select material and size)

Aluminum and PVC signs have 0.20-in. mounting holes in each corner.
All are printed with UV-stable ink and are suitable for indoor or outdoor use at service temperatures from -40 F to +180 F.
Click Add To Cart to order this Spanish NFPA Hazard Explanation Guide sign today.
Customers who bought this also consider
---