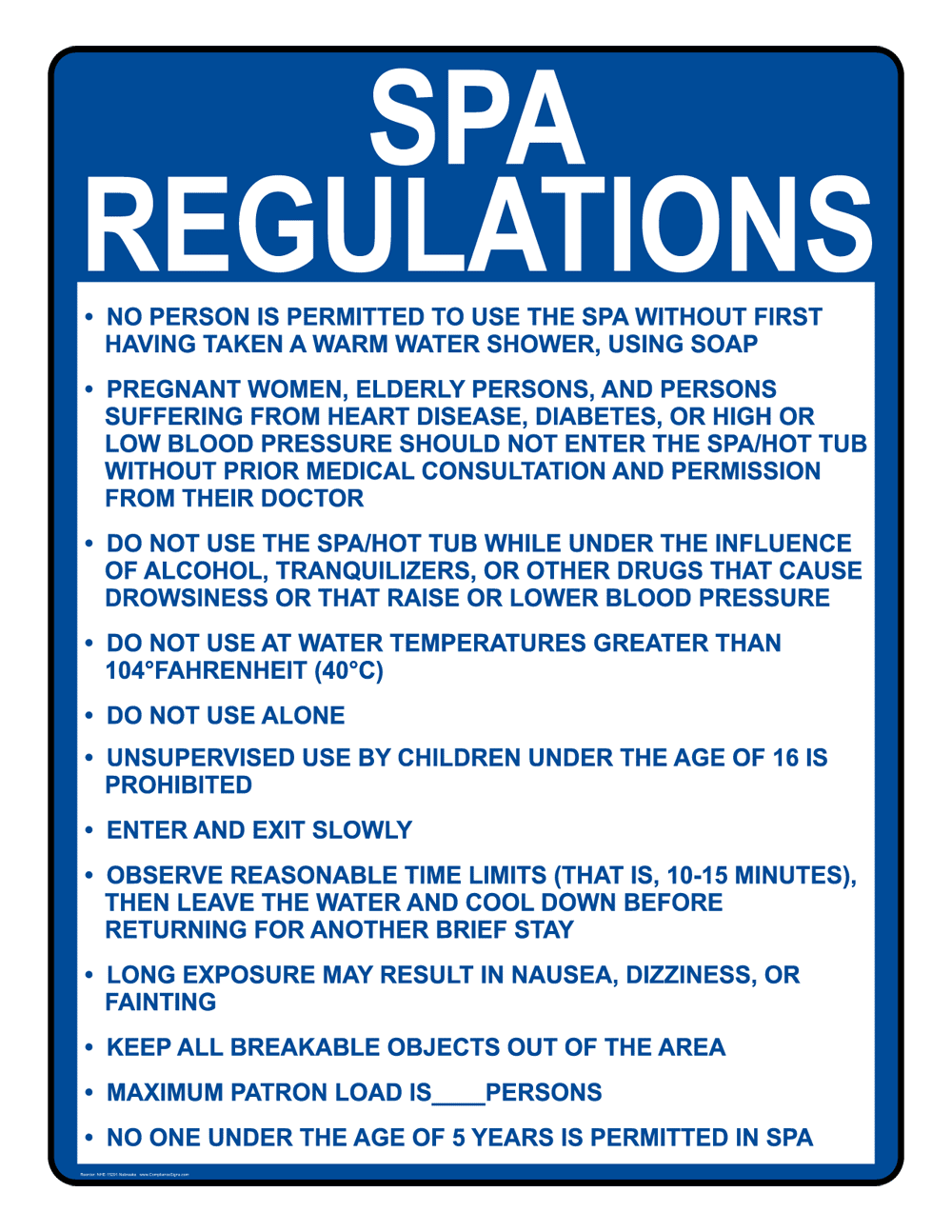 Nebraska Spa Regulations Sign
Estimated shipping date:
...loading
Product details
---
Mounting option
Surface Mount
SKU
NHE-15291-Nebraska
CS368818
Wording
SPA REGULATIONS NO PERSON IS PERMITTED TO USE THE SPA WITHOUT FIRST HAVING TAKEN A WARM WATER SHOWER, USING SOAP PREGNANT WOMEN, ELDERLY PERSONS, AND PERSONS SUFFERING FROM HEART DISEASE, DIABETES, OR HIGH OR LOW BLOOD PRESSURE SHOULD NOT ENTER THE SPA/HOT TUB WITHOUT PRIOR MEDICAL CONSULTATION AND PERMISSION FROM THEIR DOCTOR DO NOT USE THE SPA/HOT TUB WHILE UNDER THE INFLUENCE OF ALCOHOL, TRANQUILIZERS, OR OTHER DRUGS THAT CAUSE DROWSINESS OR THAT RAISE OR LOWER BLOOD PRESSURE DO NOT USE AT WATER TEMPERATURES GREATER THAN 104°FAHRENHEIT (40°C) DO NOT USE ALONE UNSUPERVISED USE BY CHILDREN UNDER THE AGE OF 16 IS PROHIBITED ENTER AND EXIT SLOWLY OBSERVE REASONABLE TIME LIMITS (THAT IS, 10-15 MINUTES), THEN LEAVE THE WATER AND COOL DOWN BEFORE RETURNING FOR ANOTHER BRIEF STAY LONG EXPOSURE MAY RESULT IN NAUSEA, DIZZINESS, OR FAINTING KEEP ALL BREAKABLE OBJECTS OUT OF THE AREA MAXIMUM PATRON LOAD IS____PERSONS NO ONE UNDER THE AGE OF 5 YEARS IS PERMITTED IN SPA
Description
This easy-to-read Nebraska SPA REGULATIONS sign with Custom Text provides state-specific rules for anyone using your pool or spa.
• Includes your custom text (Enter in box above).

• Surface-mount water safety sign is directly printed in color on a white substrate.

• Wording and/or text size meets state-specific requirements for Nebraska SPA REGULATIONS water safety signage.

• This pool / spa safety sign is UV, chemical, abrasion and moisture resistant.

• Substrate is rugged, enamel-coated aluminum

• Aluminum water safety sign has 0.20-in. mounting holes in each corner.

• All pool / spa rules signs are printed with UV-stable ink and aresuitable for indoor or outdoor use at service temperatures from -40 F to +180 F.
• For more detailed information on sign construction, please select the Product Data Bulletins tab above.
• Order your Nebraska SPA REGULATIONS water safety signs today, or use the Create a Custom Sign tab to make your own.
Customers who bought this also consider
---