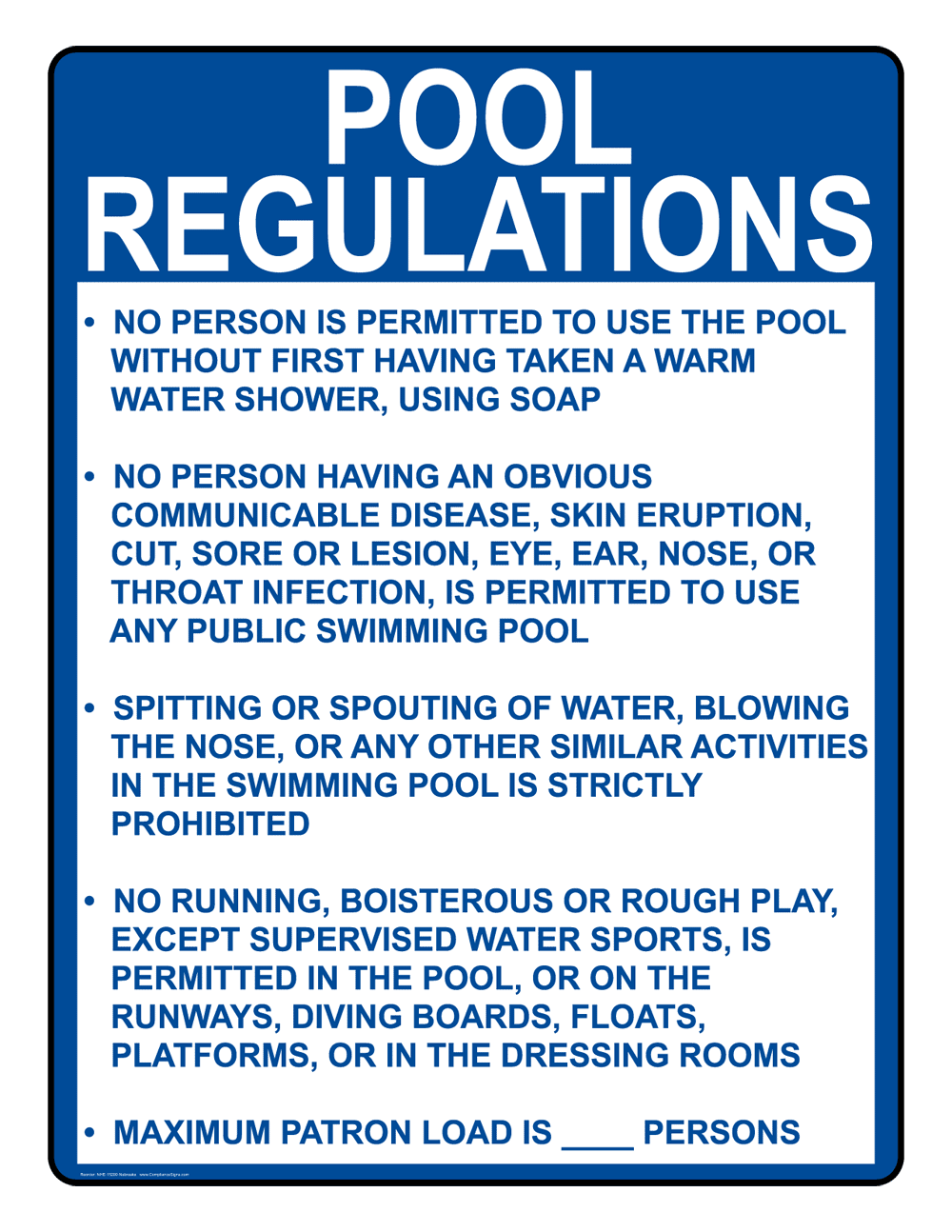 Nebraska Pool Regulations Sign
Estimated shipping date:
...loading
Product details
---
Mounting option
Surface Mount
SKU
NHE-15290-Nebraska
CS949662
Wording
POOL REGULATIONS NO PERSON IS PERMITTED TO USE THE POOL WITHOUT FIRST HAVING TAKEN A WARM WATER SHOWER, USING SOAP NO PERSON HAVING AN OBVIOUS COMMUNICABLE DISEASE, SKIN ERUPTION, CUT, SORE OR LESION, EYE, EAR, NOSE, OR THROAT INFECTION, IS PERMITTED TO USE ANY PUBLIC SWIMMING POOL SPITTING OR SPOUTING OF WATER, BLOWING THE NOSE, OR ANY OTHER SIMILAR ACTIVITIES IN THE SWIMMING POOL IS STRICTLY PROHIBITED NO RUNNING, BOISTEROUS OR ROUGH PLAY, EXCEPT SUPERVISED WATER SPORTS, IS PERMITTED IN THE POOL, OR ON THE RUNWAYS, DIVING BOARDS, FLOATS, PLATFORMS, OR IN THE DRESSING ROOMS MAXIMUM PATRON LOAD IS ____ PERSONS
Description
This easy-to-read Nebraska POOL REGULATIONS sign provides state-specific rules for anyone using your pool or spa.
• Surface-mount water safety sign is directly printed in color on a white substrate.

• Wording and/or text size meets state-specific requirements for Nebraska POOL REGULATIONS water safety signage.

• This pool / spa safety sign is UV, chemical, abrasion and moisture resistant.

• Substrate is rugged, enamel-coated aluminum

• Aluminum water safety sign has 0.20-in. mounting holes in each corner.

• All pool / spa rules signs are printed with UV-stable ink and aresuitable for indoor or outdoor use at service temperatures from -40 F to +180 F.
• For more detailed information on sign construction, please select the Product Data Bulletins tab above.
• Order your Nebraska POOL REGULATIONS water safety signs today, or use the Create a Custom Sign tab to make your own.
Customers who bought this also consider
---