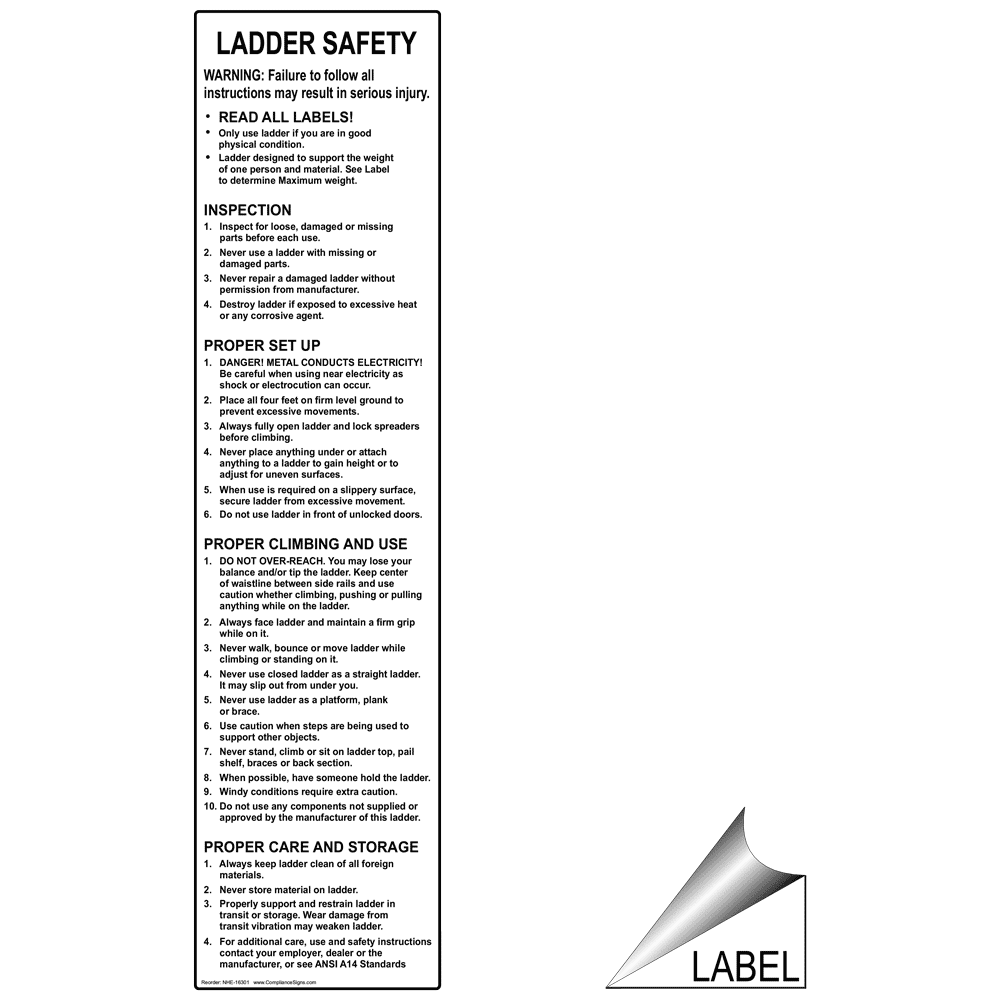 Ladder Safety Warning Label Industrial Notices
Estimated shipping date:
...loading
Product details
---
Mounting option
Self-Adhesive
Wording
LADDER SAFETY WARNING: Failure to follow all instructions may result in serious injury. READ ALL LABELS! Only use ladder if you are in good physical condition Ladder designed to support the weight of one person and material. See Label to determine Maximum weight. INSPECTION 1. Inspect for loose, damaged or missing parts before each use 2. Never use a ladder with missing or damaged parts 3. Never repair a damaged ladder without permission from manufacturer 4. Destroy ladder if exposed to excessive heat or any corrosive agent PROPER SET UP 1. DANGER! METAL CONDUCTS ELECTRICITY! Be careful when using near electricity as shock or electrocution can occur 2. Place all four feet on firm level ground to prevent excessive movements 3. Always fully open ladder and lock spreaders before climbing 4. Never place anything under or attach anything to a ladder to gain height or to adjust for uneven surfaces 5. When use is required on a slippery surface, secure ladder from excessive movement 6. Do not use ladder in front of unlocked doors PROPER CLIMBING AND USE 1. DO NOT OVER-REACH. You may lose your balance and/or tip the ladder. Keep center of waistline between side rails and use caution whether climbing, pushing or pulling anything while on the ladder. 2. Always face ladder and maintain a firm grip while on it. 3. Never walk, bounce or move ladder while climbing or standing on it. 4. Never use closed ladder as a straight ladder. It may slip out from under you. 5. Never use ladder as a platform, plank or brace. 6. Use caution when steps are being used to support other objects 7. Never stand, climb or sit on ladder top, pail shelf, braces or back section 8. When possible, have someone hold the ladder 9. Windy conditions require extra caution 10. Do not use any components not supplied or approved by the manufacturer of this ladder. PROPER CARE AND STORAGE 1. Always keep ladder clean of all foreign materials. 2. Never store material on ladder. 3. Properly support and restrain ladder in transit or storage. Wear damage from transit vibration may weaken ladder 4. For additional care, use and safety instructions contact your employer, dealer or the manufacturer, or see ANSI A14 Standards
Description
This white LADDER SAFETY self-adhesive label will clearly identify safe operational procedures.
• Peel-and-stick, self-adhesive label
• Label is UV, chemical, abrasion and moisture resistant
• Flexible vinyl label stock has permanent adhesive
• All labels are printed with UV-stable ink and are suitable for indoor or outdoor use at service temperatures from -40 F to +180 F.
• For more detailed information on construction, please select the Product Data Bulletins tab above.
Customers who bought this also consider
---