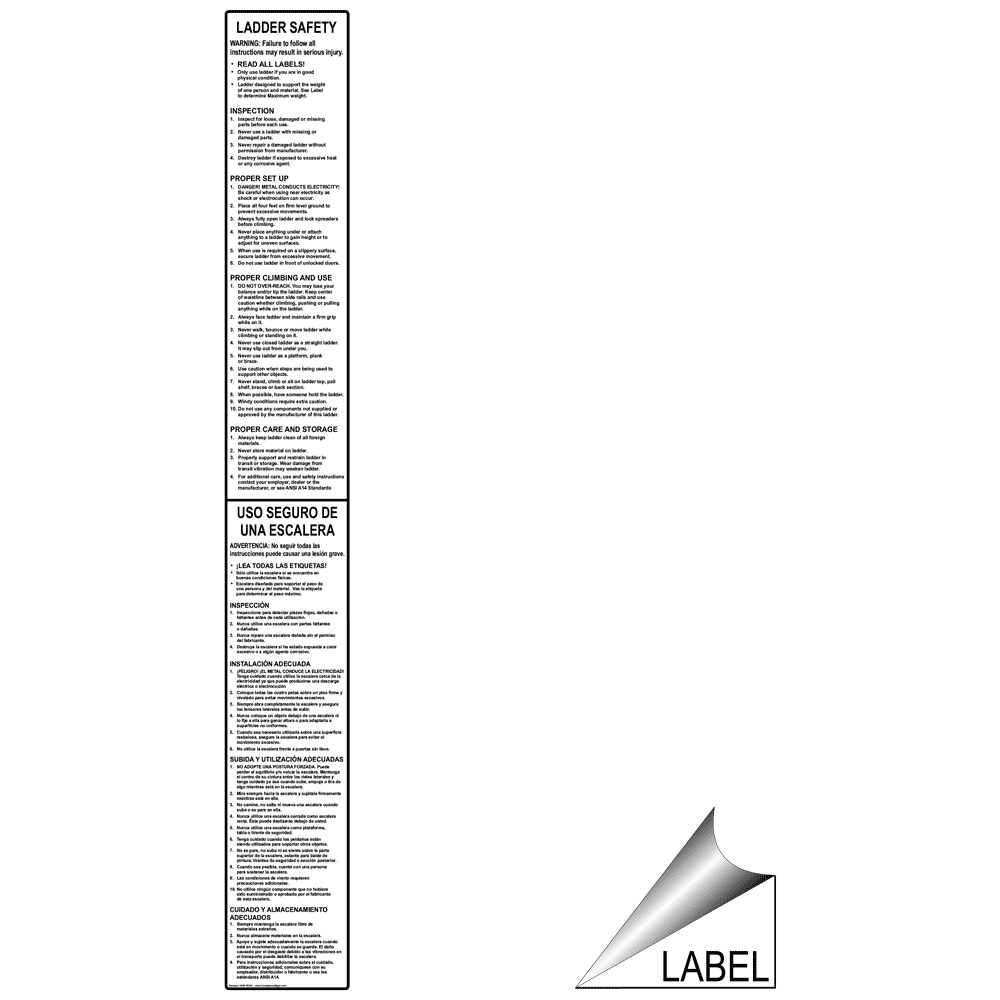 Ladder Safety Warning Bilingual Label Industrial Notices
Estimated shipping date:
...loading
Product details
---
Mounting option
Self-Adhesive
Wording
LADDER SAFETY WARNING: Failure to follow all instructions may result in serious injury. READ ALL LABELS! Only use ladder if you are in good physical condition Ladder designed to support the weight of one person and material. See Label to determine Maximum weight. INSPECTION 1. Inspect for loose, damaged or missing parts before each use 2. Never use a ladder with missing or damaged parts 3. Never repair a damaged ladder without permission from manufacturer 4. Destroy ladder if exposed to excessive heat or any corrosive agent PROPER SET UP 1. DANGER! METAL CONDUCTS ELECTRICITY! Be careful when using near electricity as shock or electrocution can occur 2. Place all four feet on firm level ground to prevent excessive movements 3. Always fully open ladder and lock spreaders before climbing 4. Never place anything under or attach anything to a ladder to gain height or to adjust for uneven surfaces 5. When use is required on a slippery surface, secure ladder from excessive movement 6. Do not use ladder in front of unlocked doors PROPER CLIMBING AND USE 1. DO NOT OVER-REACH. You may lose your balance and/or tip the ladder. Keep center of waistline between side rails and use caution whether climbing, pushing or pulling anything while on the ladder. 2. Always face ladder and maintain a firm grip while on it. 3. Never walk, bounce or move ladder while climbing or standing on it. 4. Never use closed ladder as a straight ladder. It may slip out from under you. 5. Never use ladder as a platform, plank or brace. 6. Use caution when steps are being used to support other objects 7. Never stand, climb or sit on ladder top, pail shelf, braces or back section 8. When possible, have someone hold the ladder 9. Windy conditions require extra caution 10. Do not use any components not supplied or approved by the manufacturer of this ladder. PROPER CARE AND STORAGE 1. Always keep ladder clean of all foreign materials. 2. Never store material on ladder. 3. Properly support and restrain ladder in transit or storage. Wear damage from transit vibration may weaken ladder 4. For additional care, use and safety instructions contact your employer, dealer or the manufacturer, or see ANSI A14 Standards - USO SEGURO DE UNA ESCALERA ADVERTENCIA: No seguir todas las instrucciones puede causar una lesión grave. ¡LEA TODAS LAS ETIQUETAS! Sólo utilice la escalera si se encuentra en buenas condiciones físicas Escalera diseñada para soportar el peso de una persona y del material. Vea la etiqueta para determinar el peso máximo. INSPECCIÓN 1. Inspeccione para detectar piezas flojas, dañadas o faltantes antes de cada utilización. 2. Nunca utilice una escalera con partes faltantes o dañadas 3. Nunca repare una escalera dañada sin el permiso del fabricante 4. Destruya la escalera si ha estado expuesta a calor excesivo o a algún agente corrosivo INSTALACIÓN ADECUADA 1. ¡PELIGRO! ¡EL METAL CONDUCE LA ELECTRICIDAD! Tenga cuidado cuando utilice la escalera cerca de la electricidad ya que puede producirse una descarga eléctrica o electrocución 2. Coloque todas las cuatro patas sobre un piso firme y nivelado para evitar movimientos excesivos 3. Siempre abra completamente la escalera y asegure los tensores laterales antes de subir 4. Nunca coloque un objeto debajo de una escalera ni lo fije a ella para ganar altura o para adaptarla a superficies no uniformes 5. Cuando sea necesario utilizarla sobre una superficie resbalosa, asegure la escalera para evitar el movimiento excesivo 6. No utilice la escalera frente a puertas sin llave SUBIDA Y UTILIZACIÓN ADECUADAS 1. NO ADOPTE UNA POSTURA FORZADA. Puede perder el equilibrio y/o volcar la escalera. Mantenga el centro de su cintura entre los rieles laterales y tenga cuidado ya sea cuando sube, empuja o tira de algo mientras está en la escalera. 2. Mire siempre hacia la escalera y sujétala firmemente mientras esté en ella. 3. No camine, no salte ni mueva una escalera cuando suba o se pare en ella. 4. Nunca utilice una escalera cerrada como escalera recta. Ésta puede deslizarse debajo de usted. 5. Nunca utilice una escalera como plataforma, tabla o tirante de seguridad. 6. Tenga cuidado cuando los peldaños están siendo utilizados para soportar otros objetos 7. No se pare, no suba ni se siente sobre la parte superior de la escalera, estante para balde de pintura, tirantes de seguridad o sección posterior 8. Cuando sea posible, cuente con una persona para sostener la escalera 9. Las condiciones de viento requieren precauciones adicionales 10. No utilice ningún componente que no hubiera sido suministrado o aprobado por el fabricante de esta escalera. CUIDADO Y ALMACENAMIENTO ADECUADOS 1. Siempre mantenga la escalera libre de materiales extraños. 2. Nunca almacene materiales en la escalera. 3. Apoye y sujete adecuadamente la escalera cuando esté en movimiento o cuando se guarde. El daño causado por el desgaste debido a las vibraciones en el transporte puede debilitar la escalera 4. Para instrucciones adicionales sobre el cuidado, utilización y seguridad, comuníquese con su empleador, distribuidor o fabricante o vea los estándares ANSI A14
Description
This White self-adhesive label will clearly identify ladder and scaffold hazards.
• Peel-and-stick, self-adhesive label
• Label is UV, chemical, abrasion and moisture resistant
• Flexible vinyl label stock has permanent adhesive
• All labels are printed with UV-stable ink and are suitable for indoor or outdoor use at service temperatures from -40 F to +180 F.
• For more detailed information on construction, please select the Product Data Bulletins tab above."
Customers who bought this also consider
---