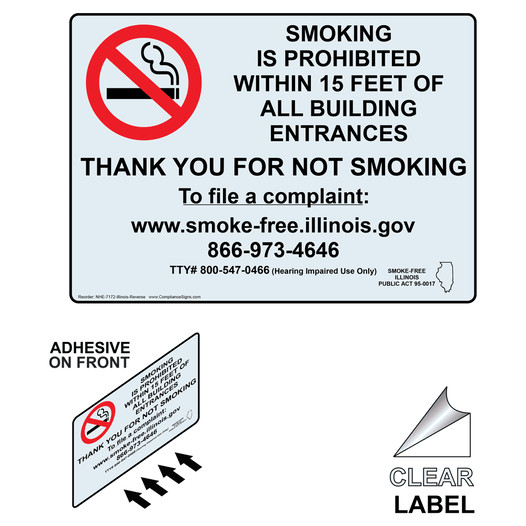 Illinois Smoking Is Prohibited Within 15 Feet Label With Front Adhesive
SKU: NHE-7172-Illinois-Reverse
Product details
---
Mounting option
Self-Adhesive
SKU
NHE-7172-Illinois-Reverse
CS446317
Wording
SMOKING IS PROHIBITED WITHIN 15 FEET OF ALL BUILDING ENTRANCES THANK YOU FOR NOT SMOKING To file a complaint: www.smoke-free.illinois.gov 866-973-4646 TTY# 800-547-0466 (Hearing Impaired Use Only)
Description
This front-adhesive window label with SMOKING IS PROHIBITED WITHIN 15 FEET OF ALL BUILDING ENTRANCES THANK YOU FOR NOT SMOKING To file a complaint: www.smoke-free.illinois.gov 866-973-4646 TTY# 800-547-0466 (Hearing Impaired Use Only) message mounts easily on the inside surface of glass doors or windows to make your Illinois No Smoking X Feet message clear.
• Mounts INSIDE glass doors and windows for viewing from the opposite side. (Text on clear labels will be backward when viewed from inside.)

• Front-adhesive labels include permanent clear adhesive and easy-to-remove backing strip - just peel and stick.

• Window cling has no adhesive - holds by static cling.

• US-made No Smoking sticker / label is printed in bold color on clear vinyl.

• Substrate choices:

- Clear vinyl label with permanent adhesive
- White vinyl label with permanent adhesive
- Clear window cling with no adhesive
(Choose a tab next to the sign to select material and size)

• Available in a variety of sizes to fit your application. (Select above)

• Labels are printed with UV-stable ink suitable for indoor or outdoor use at temperatures from -40 to +180 F.

• Window Cling is designed for use on indoor glass, but can be used outdoors for up to 3 months. For best results, apply window cling to clean, room-temperature glass.
• For more details on construction, click the Product Data Bulletins tab above and select Clear Labels & Stickers.
• Order your Illinois No Smoking X Feet window labels today.