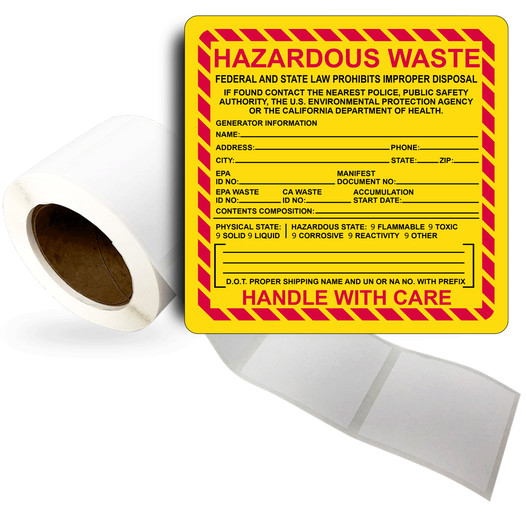 Hazardous Waste Federal And State Roll Label
Product details
---
Construction
Poly Roll Label
Mounting option
Self-Adhesive
SKU
LDRE-15011_YLW
CS863917
Wording
HAZARDOUS WASTE FEDERAL AND STATE LAW PROHIBITS IMPROPER DISPOSAL IF FOUND CONTACT THE NEAREST POLICE, PUBLIC SAFETY AUTHORITY OR THE U.S. ENVIRONMENTAL PROTECTION AGENCY OR THE CALIFORNIA DEPARTMENT OF HEALTH. GENERATOR INFORMATION NAME: ADDRESS: PHONE: CITY: STATE: ZIP: EPA ID NO: MANIFEST DOCUMENT NO: EPA WASTE ID NO: CA WASTE ID NO: ACCUMULATION START DATE: CONTENTS COMPOSITION: PHYSICAL STATE: SOLID LIQUID HAZARDOUS STATE: FLAMMABLE TOXIC CORROSIVE REACTIVITY OTHER D.O.T. PROPER SHIPPING NAME AND UN OR NA NO. WITH PREFIX HANDLE WITH CARE
Description
Roll of HAZARDOUS WASTE FEDERAL AND STATE Poly Labels with Light Duty Adhesive
Use these Square Yellow poly labels to post your Hazardous Material message. They are ideal for use in wet areas or high temperatures.
US-made Hazmat labels are printed in bold color with UV-resistant eco-solvent ink.
5 mil poly label has clear, light-duty, permanent adhesive.
Matte finish is easy to read, with less reflection than glossy labels.
Poly material is suitable for wet locations.
Offers good heat resistance with service temperature range of -20 to +212 F. NOTE: Labels must be applied to a clean, dry surface at temperatures above +23 F.
Choose economical rolls of 100, 250 or 500 labels (select above).
ComplianceSigns.com labels are made-to-order.
Click Add To Cart to order this roll of Hazardous Material poly labels today.