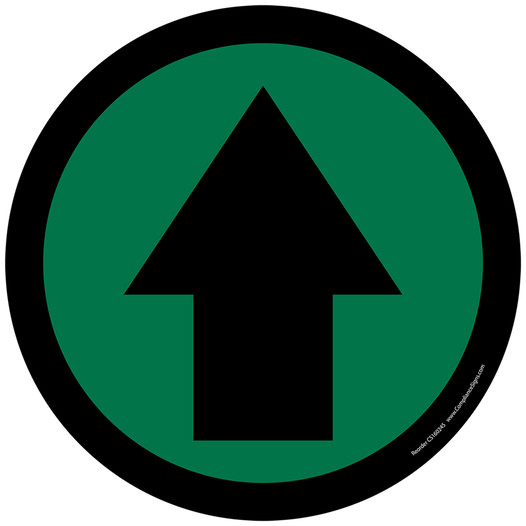 Green Graphic [Arrow] Pavement or Floor Label
Product details
---
Mounting option
Self-Adhesive
Wording
Graphic [ARROW SYMBOL] Green
Description
Green Graphic [ARROW SYMBOL] Floor or Pavement Label
Post this colorful Directional label to direct vehicle or pedestrian traffic around your indoor facilities, parking areas, driveways or other outdoor areas. It's also perfect for identifying traffic flow that helps maintain social distancing to help prevent the spread of the Coronavirus (COVID-19). These floor and pavement labels are proudly made in the USA.
Pavement Label:

Glass bead surface reflects light for enhanced visibility and provides a non-slip texture - meeting NFSI and ASTM D20047 specifications.
Foil-based material with adhesive back conforms to rough surfaces like asphalt, concrete and stone.
Easy to remove, usually with no residue left behind. Great for short- or long-term use.
Withstands normal to heavy foot traffic and other abrasions.
Apply at 50-100 degrees F. to a surface that is dry, swept, and free of oil or other chemicals.
Available in 2 sizes (select above).
Floor Label:

Thick vinyl is printed subsurface and laminated for protection from pedestrian traffic.
Surface has a non-slip pebble texture.
Includes permanent acrylic adhesive with easy-to-remove liner.
Easy to use - just peel and stick to a clean, dry, smooth surface for best adhesion.
Available in 2 sizes (select above).
Click Add To Cart to order floor or pavement labels for Wayfinding today.