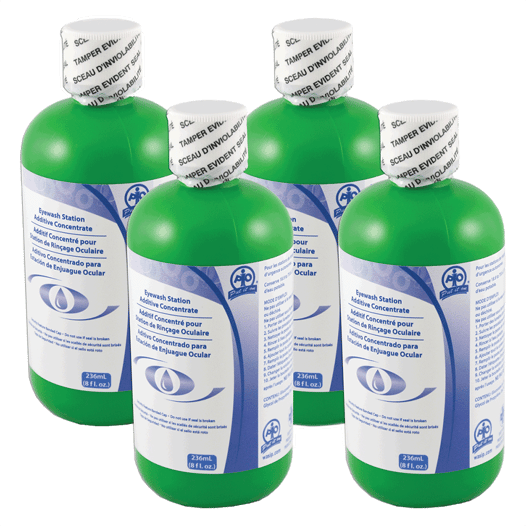 Eyewash Preservative Solution 4-Pack
Product details
---
Construction
Accessories / Equipment
Mounting option
Self-Standing
Wording
Eyewash Solution 4-Pack
Description
Preservative Solution for Portable Eyewash Stations
Use this eyewash solution to prevent bacteria and preserve water in portable eyewash stations.
Eyewash water preservative reduces the need for water changes and helps avoid additional damage to injured eyes.
Easy to use - just fill clean eyewash station with potable water and pour in the additive.
Preserved water lasts up to 120 days, reducing maintenance needs.
Includes 4 8-ounce bottles. Each bottle preserves up to 20 gallons of water.
Use with any portable or self-contained eyewash.
Sealed bottle has a shelf life of 3 years.
Tamper-evident seal offers extra security.
Read and follow label directions.
Label has instructions in English, Spanish and French.
Valve is chrome-plated brass.
Designed for use with Hughes pressurized eyewash station (sold separately).
Click Add to Cart to order this 4-pack of eyewash preservative solution today.